In a world that measures success in terms of numbers, what would have been the social media following of these yesteryear sensations like Parveen Babi & Divya Bharti? Could they have matched to the new-age so-called 'Influencers'? You never know, they would have, given how the entire nation once fell for them.
GPS & the other technological advancements that we boast of, could the infamous bandit Veerappan still have managed to create similar havoc in this modern-day? Again you never know, he would have, for he always out-foxed the smartest minds day in and day out for a span of 36 years!
Absurd analogies, isn't it? That's what imagination is all about. It makes us snooze while day-dreaming and keeps us wide awake during the night-time. With the paints of the past, it impels us to picturise the present and future as well. To continue this series of hypothetical questions, let's pitch in one more. There's an exception to it. It's answered! – Would Sachin have been a T20 great?
Embed from Getty Images
Master in blasting, after all!
Once Aakash Chopra made an honest confession. Playing for KKR, he had difficulty in even catering to, let alone pampering the newly-born IPL. In fact, most of his contemporaries were having a tough time likewise. He had to turn towards Rahul Dravid for a quick fix. In return, the Wall suggested an approach that wasn't ingrained in any of the generations prior to 2008 – Let go of the fear of getting out! All that the coaches taught was to 'Play in the V' and the aerial strokes were frowned upon. Failure to toe this line would result in a rap on the knuckles (literally!) or a double-digit number of laps (at least!) of the ground. Hence, there was a sense of guilt and shame associated with taking risks.
Sachin didn't exactly buy into this argument. In 2002, he played an innings which was way ahead of its times – 72 runs of mere 27 balls! Though, this match against New Zealand was a 'Super Max International', the power & prowess of his strokeplay cannot be trivialized. Apart from it, Sharjah'98 & Centurion'03 often hog most of the limelight, but Sachin provided head-starts on innumerable occasions. The average was never sacrificed for the strike-rate. In that era, with that eloquence! He used to attack, and at times, counter-attack to be off the blocks during the mandatory powerplay. He used to essay a similar role for Mumbai Indians. Well, a doff of the cap for the person who named him 'Master Blaster'!
Sachin hits a six in India's only Super Max International
Innovation & Renovation, in equal measure!
There was always an exquisite upper-cut in his armory. We were treated with the helicopter shot when even Dhoni didn't patent it. Slog-sweeps and reverse-sweeps were unleashed while nearing the fatigue-limits. He was an absolute package. First to register '200' in an ODI! An IPL hundred way back in 2011! These two stats more than suffice the argument that he had an innovative streak. The modifications in the rules were looked after, diverse sets of conditions were taken care of, every skill-set possible of bowling tacked – Longevity, success in itself, mandates renovation. Add to that, the record '49' ODI centuries! The above two traits are the strands that constitute the DNA of a T20 specialist. Sachin possessed these in abundance.
IPL'10 – The Perfect Case-Study:
Injury restraints meant he had to skip the major bulk of the inaugural edition'08. The next season, IPL'09 had to be abruptly moved out to South Africa. IPL'11 was post the draining World Cup at home and IPL'12 & '13 coincided with the fag end of his career. IPL'10 was when he crossed the hallmark of 600+ runs & the esteemed 'Orange-Cap' was bestowed on him! More than a decade ago, the '132.61' strike-rate was excellent and it continues to be. By this feat, Mumbai Indians powered their way into the finals only to falter at the last hurdle. However, the world discovered the precise template prerequisite to flourish in this enigmatic format. Virat followed suit, the extraordinary edition of '16 was a true reflection of his predecessor's mantra.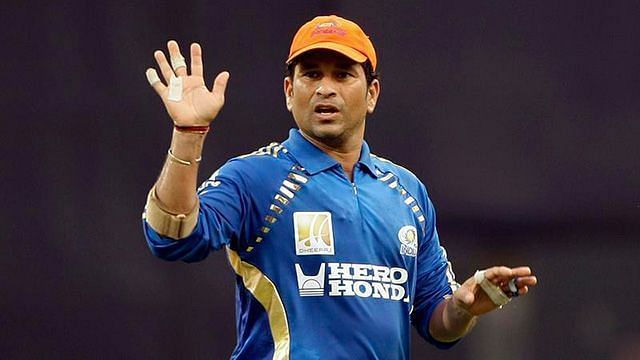 Sachin Tendulkar won the Orange Cap in IPL 2010 (Image: Mumbai Indians | Instagram)
A small footnote:
Sachin's body frame is squarish like MS Dhoni. Those batsmen, who possess this physique, have trouble uprooting the wide-yorkers during the death-overs. A Pollard or a Hardik, both with rectangle frames, have better reach and thus, can score off these balls as well. Another blemish in Sachin's otherwise non-penetrative technique was his struggle against left-arm orthodox spinners. A tactic for the opposition captains – Tie up one end and induce a false shot in the first six overs. Greg Chapell opines "That's what good players do – Where others see problems, the good players see challenges and invariably find a way to overcome them". No alternative but to second this because Sachin wasn't merely good, he was too good!
In an interview, Sanjay Manjrekar asserted that "I have seen him from early days when he was 14. We had single and double wicket competitions and six-a-side games, and he used to smash bowlers to smithereens. Scoring at 8-9 (runs) an over was unheard of in those days (so) I think world cricket is deprived to see that side of Tendulkar." Of course, it's a regret. Though, a lesser one than Sir Don Bradman not featuring in any short version of cricket. Let's rejoice the fortune to witness Sachin in a solitary T20I & a handful of seasons of the IPL/Champions League.
Embed from Getty Images
The above intriguing topic is an attempt to explore the subject of possibility and not question his ability. Therefore, 'Would' has been used instead of 'Could'! The boundaries between the two cases get blurred since we are dwelling in the 'Past' – Which has zilch existence in the 'Present' or will have any in the 'Future'. Time to give our imagination a breather. Oh wait, did I mention his mysterious spin bowling or his gun arm coupled with street smart fielding? Well, here we go again!
Featured Image: Sachin Tendulkar | Twitter
Hello. I am Nikhil Anand! I write on a wide spectrum of sports as this medium of expression is the perfect confluence of my two loves – Sport & Literature. I envision adding layered value & an additional dimension in sports broadcasting!