Rashid Khan is one of the best leg-spinners in the world. His mysterious bowling has stunned many batsmen and is hard to pick because of quite a few reasons. Moreover, he has many variations compared to other leg-spinners in the world. So, what are the factors which make him so special:
Run-up:
Rashid Khan is a unique bowler because of his run-up. Generally, leg-spinners have a comparatively slower run-up and they enjoy bowling flighted deliveries which helps the ball turn. Rashid is not of that kind. He sprints through his run-up in order to bowl fast. He doesn't bowl many flight deliveries as the ball might not turn the way it should. That's also one of the reasons why Rashid Khan idolizes Shahid Afridi and Anil Kumble, the leg-spinners who used to bowl fast.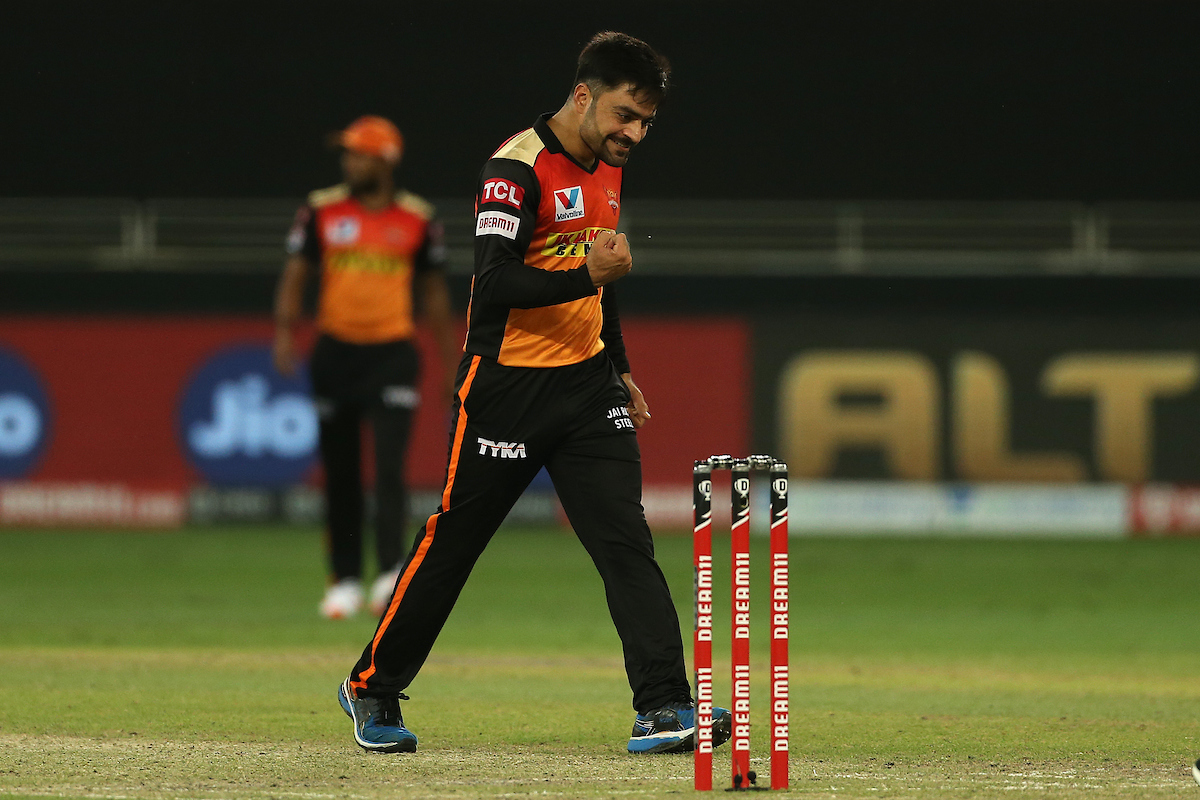 Rashid Khan celebrating after taking the wicket of AB de villiers in the match against RCB (Image credit: iplT20/twitter)
Action:
Rashid enjoys deceiving the batsman with his action. Quick-arm action allows him to bowl wrong-un and the leg break with similar actions. Leg spinners generally use their wrist for spinning the ball. Rashid on the other hand uses his arm and the tip of his fingers to do the work. Basically, he runs and bowls from the back of the hand, you do that to bowl a wrong-un, right? It's not the same with Rashid. He tricks the batsman with the leg break looking like a wrong-un and with the googly looking like a leg break.
Rashid is able to this because of his quick arm action. He gets an upper edge because of his pace. Shane Warne's average bowling speed used to be around 83-84 kmph. Whereas, Rashid khan's average bowling speed is around 93-94 kmph. That's the difference, one loves to spin, other loves pace.
Variations:
Generally, leg-spinners have 3-4 variations but all of them have the same grip. Rashid Khan, on the other hand, has 5 grips! Yes, 5!
As far as variations are concerned, he just has 2 of them. The traditional leg-break and the googly. However, the way he delivers them is different for each ball in the over. Now that's something which makes him unique.
A couple of his grips (Image Source: Hotstar)
Using the tip of the fingers and bowling fast helps him to carry more and more grips and this makes it quite tough for the batsman to guess the variations. He has got all the big blokes out there including Virat Kohli, AB de Villiers, MS Dhoni, etc. using these variations.
Mindset:
Mindset and temperament is a vital aspect for every player. Every bowler likes to go for the wicket, isn't it? Honestly, there's no harm in doing so. However, Rashid Khan's mindset is something else. His main aim is to maintain a good economy and generate pressure. In several post-match interviews, he has expressed that he always tries to keep it tight and restricts the batsman to play his best game.
To be honest, I never thought about winning the game (when he was bowling). If I keep it tight, there are always chances of opening up at the other end (speaking about the lack of wickets). I'll be happy to keep it tight, though it's nice to take some wickets. I try to minimize loose deliveries, keep it tight and be more economical.

Embed from Getty Images
Since his debut for SRH in 2017, he has always tried to be economical. What this actually does is, it increases the pressure on the batsman and the bowler gets the wicket in turn. This conveys that Rashid Khan is a team man and shows that the wicket-taking bowler is actually not aiming for the wicket.
Records:
His records speak themself. Rashid Khan has been the bowler with the best economy in IPL history. Having taken 73 wickets, he has the economy of just 6.22. His records in middle overs are invincible. He keeps it super tight and doesn't give unnecessary width to which the batsman can score. He has been the prime wicket-taker for SRH this season after the exclusion of Bhuvneshwar Kumar. With no Bhuvi, Rashid was leading the bowling attack. The pressure always brings out best of him and it did the same this time around as well. He has taken 18 wickets in the tournament so far with an inconceivable economy of 5.07.
Embed from Getty Images
Batting:
Not to forget, he's a pretty handy batsman as well. Although the statistics don't reveal it, he has that batting power. He has shown his batting prowess in the BBL last year as well. Moreover, he used to open the batting in domestic cricket in Afghanistan. He was selected as a batsman and a part-time bowler in the team. He used to open the innings and bowl a couple of overs back then. Surprisingly, he did exceedingly well with the ball and he took up bowling thereafter. He still puts some handy runs for his team from time to time.
---

Rashid Khan has been one of the key players for SRH for the past few years and has done a great job in the IPL. The combination of his brilliant bowling, great fielding and handy batting has helped SRH in many matches. If he continues at this rate, he will definitely be counted among the greatest spinners not only in IPL but also in the history of T20 cricket.
Featured Image: Sunrisers Hyderabad | Instagram
I'm an undergraduate student and I've been writing Cricket articles on Quora for a while and recently I crossed 1 Million content views on my articles on Quora. It's my passion to express my love towards the game.