Pace bowling is a skill in itself; a skill which is aesthetically good to see and feel. It also makes one wonder about the efforts and stress required to master that skill. And it is not just labour work or about speed; it requires a bowler to have a sound presence of mind so as to where, whom and when to bowl.
The pace quartet of West Indies was nonetheless the most fearful ones in the 20th century. They made the best of the batsmen dance to their bouncers, squat and also many a times aimed at their heads with a tagline "You Miss, I hit!!"
The pace-quartet comprised of 4 genuine fast bowlers, namely Michael Holding, Andy Roberts, Joel Garner and Colin Croft.
The Pace-Quartet (L to R): Andy Roberts, Michael Holding, Colin Croft and Joel Garner (Source: The Mirror)
1. Andy Roberts
A right-arm quickie, Andy Roberts, was as tall as 6 ft 2 in and normally possessed a penchant to bowl two kinds of deliveries: A bouncer of slower pace and a bouncer of quicker pace. He would use the slower bouncer first so as to put the batsman into a false sense of security. The batsman would hook the ball for a four or a six. However, the other bouncer bowled would be much quicker one, thus dismissing many batsmen as well as injuring many of those as batsmen those days didn't wear a helmet. He had his best years in the pre-Kerry Packer era before it came and revolutionized modern-day cricket. He was also a part of West Indies World Cup winning team in 1975 and 1979.
But later, his pace waned to such an extent that the batsmen became comfortable. With his good out-swingers and in-swingers, he kept his place till 1983 tour to India. Overall, he took 202 wickets in 47 Tests at a bowling average of 25.63 and 87 wickets in 56 ODI's at a bowling average of 20.35.
Andy Roberts (Source: The Cricket Monthly)
2. Michael Holding
A right-arm fast bowler who played most number of Tests in this quartet, Michael Holding, was nicknamed as "Whispering Death" due to his silent run-up to the crease. He had the best bowling figures by a West Indian bowler (14/149) against England in 1976, which is still a record for West Indies in Tests.
As they say, fortune favours the brave. Similar was the case with Holding, who was diagnosed with asthma when he was just 3 years old. But he never required an inhaler to monitor his breath and was blessed with a nice lean, tall physique measuring 6 ft 3.5 in.
He too just like Roberts was successful in implanting bouncers perpendicular to batsman's head. Batsmen had to be on their toes whenever he came in to bowl. Also, he had a longer run-up towards the crease. He took 249 wickets in 60 Tests at a bowling average of 23.68 and 142 wickets in 102 ODI's at a bowling average of 21.36.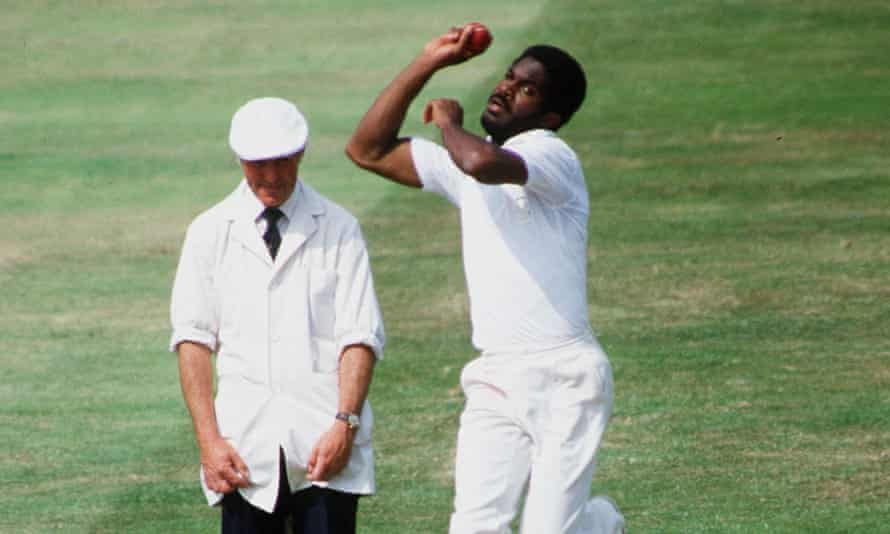 Michael Holding (Source: The Guardian)
3. Colin Croft
Among the pace-quartet, Colin Croft had the shortest career, playing between 1977 and 1982. In addition to bouncers, he used the tactic of bowling wide off-stump of the crease to the batsmen very often. He had the penchant to bowl out-swingers and in-swingers to the batsmen. He has recorded the best Test innings spell, 8 wickets for 29 runs against Pakistan in 1977.
Colin Croft took 125 wickets in 27 Tests at an average of 23.30 and 30 wickets in 19 ODI's at an average of 20.66.
Embed from Getty Images
4. Joel Garner
Joel Garner was the joint-tallest cricketer to play International Cricket in the 20th century, along with Australian quick Bruce Reid. His height measured 6 ft 8 in (203 cm). Imagine the amount of prodigious bounce he would extract from any surface on the earth! Rightly said, he was the most successful bowler in the pace-quartet, averaging below 21 in both Tests and ODI's.
A right-arm fast bowler, he also had a deadly yorker delivery, which was later imbibed by future stars Courtney Walsh and Curtly Ambrose. He holds the record for the best bowling figures in a World Cup Final, taking 5/39 in 1979 World Cup against England, taking 5 wickets for 4 runs with twice adjudged on a hat-trick.
Garner was easily the best fielder amongst the pace-quartet, taking 42 catches in 58 Tests and 30 catches in 98 ODI's. He took 259 wickets in 58 Tests at a bowling average of 20.97 and 146 wickets in 98 ODI's at a bowling average of 18.84.
Joel Garner (Source: The Roar)
I'm a mechanical engineer and I've been writing articles related to cricket on Quora since 2017. I've got more than 2.5 million views on my answers and have got close to 600 followers. Apart from writing on cricket, I've also played club cricket for close to 2 years.