The Roller-Coaster Beginning
Ever sat on a roller-coaster? The highs and lows it goes through have an uncanny resemblance with the highs and lows one goes through in their life. And when these highs and lows happen in a short duration, the story packs a solid punch. Tatenda Taibu's story is the perfect example of such a story.
It was the year 2002, Zimbabwe's three prolific cricketers Andy Flower, Henry Olongo and Heath Streak had a little cricket left in them. Grant Flower was still going fine. With these four cricketers playing together, Zimbabwe had their best time in cricket's history. Then joined this shy cricketer, Tatenda Taibu. Though just 18 years old then, he made his way into the national team. Having shown a good presence of mind, was named the vice-captain at the age of 19. Just two years later when he was 21, he was named Zimbabwe's captain, following Stuart Carlisle's retirement. He then retired at the age of 22 and announced his comeback at the age of 24. Phew! That's tough to digest.
Embed from Getty Images
But such was his career, it peaked at the time when disturbances peaked in Zimbabwe. He used to receive photos of dead bodies from anonymous sources and was blackmailed to leave cricket. The safety of him and his family was more important to him than the sport. He shifted to Namibia, played a few List-A matches for them and made his comeback for Zimbabwe. Often, his innings were the saving grace in a match Zimbabwe lost. After one such innings against Pakistan in 2008, he received a call from the support staff of Kolkata Knight Riders. A glitzy T20 tournament was about to start in India and KKR wanted to sign him up if he were interested.
The IPL Journey
KKR bid Taibu for $125,000 which was huge for him. It would more than double his annual income. And the other perks were obvious. He'd get to play with and against the best players in the world. As soon as he joined the squad, he realised that getting into the playing XI would be really tough for him. Brendon McCullum was KKR's main keeper, while Saha was the backup. Taibu realised that he should be patient and wait for his turn to do well. He did well in the warm-up games batting particularly well against the likes of Shoaib Malik, Umar Gul and Ajit Agarkar.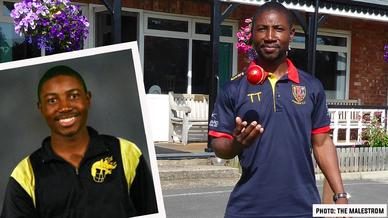 Tatenda Taibu (Image: KKR)
Once the tournament started, KKR won the first match, thanks to McCullum's blitzkrieg 158*. KKR won the second match too. But, the four matches that followed were losses. This prompted a team revamp, and hence Taibu got a chance in the playing XI.
He was slated to bat at number 5 against Royal Challengers Bangalore in the biggest game of his life. Though he looked good in the balls he played, he got out scoring just 15 runs. But KKR won that game and ended its 4-match losing streak. In the next match against Deccan Chargers, he was out for 9 runs in 5 balls. In the following game against Delhi Daredevils, he was run-out for 7 runs. One thing to be noted was that KKR won the three games he played. But Taibu's abysmal performance costed his place in the squad. Once he was dropped, KKR went on a three-match losing streak before breaking it with a win. KKR ended 6th in the points table and couldn't make it to the playoffs.
The Post-IPL Blues
The tournament had ended, and he was at the airport. Everything was back to reality. The dream called IPL had subsided. There was no more crowd cheering at him for every step he took, no staff to carry his baggage and no guards surrounding him. Taibu was back to his normal life. A week later, he was playing a local first-class game, where balls coming to him seemed much easier. As a batsman, he felt it easier to bat in the local game.
Embed from Getty Images
The IPL dream had ended. KKR released him later that year in the auction. Not making the most out of those 26 balls he faced in the tournament cost him a career that would have been completely different had he clicked.
The most profound thing I remember about the innings (his first game in IPL against RCB) is that it could have made me way better than I was. Had I gone on to convert my 15 to a fifty or something, that would have almost cemented my place, but I didn't take that opportunity.
Taibu's IPL journey has an important takeaway for all of us. Make the most out of the few opportunities you get. Taibu couldn't make the most out of those and he regrets it to this day.
Currently, Tatenda Taibu is working with the Church after an early retirement at 29. He still hopes to make a comeback in the IPL, this time as a coach, and that too of KKR. Don't they say, 'search where you lost'?
Article created in partnership with CrickAddiction (CrickAddiction | YouTube)
I am a developer by profession, a passionate Cricket fan and have contributed with articles about this sport on various blogs and knowledge sharing platforms. I have been awarded the Top Writer Award on Quora for 2018 and have over 25 million views and 10 thousand followers on Quora.