"Just got done with BCCI awards here in Chennai..some exciting cricketers coming up…Suryakumar Yadav from Mumbai to watch out for in future!"

Rohit Sharma, current skipper of Mumbai Indians at an award ceremony way back in 2011.
There have been numerous cricketers who came up and performed in the domestic arena to stake a place in the Indian cricket team. Some successfully managed to get in the Indian team and play for a substantial period of time. Some just made it to the squad but never debuted, while some were just left in obscurity despite being impressive in the domestic arena.
Don't know why, but there's a talk of a cricketer named Suryakumar Yadav, who has a similar batting style to that of Amol Muzumdar, another prodigy who never made to the Indian team. Although Muzumdar has retired from domestic cricket, both of them had utmost proficiency in playing spin-bowling.
Embed from Getty Images
Yadav debuted in List-A cricket in 2010 against Gujarat, at the age of 19. Playing in his first-ever official domestic game, he scored a quickfire 41 off 35 balls with 5 fours. He came on to bat when Mumbai was 3 down for 120 and badly needed the run-rate to accelerate. Though Mumbai won, it was a sign of more good to happen.
He debuted in First-Class cricket in December 2010 against Delhi and stamped his authority with an 89 ball 73 runs hitting 15 fours. Not satisfied by the thirst, he scored over 1000 runs in U-23 tournament in 2011 season and even topped the charts for Mumbai Ranji team in 2011/12 season, with 754 runs in 9 matches at an average of 68.54 runs per innings. He even scored his maiden first-class double hundred in his 3rd match of 2011/12 season.
Embed from Getty Images
While he got a call from the Mumbai Indians for the first time ever for IPL 2012, he was selected just for one match in which he remained unbeaten on 0.
However, he didn't get any chance in IPL 2013 for Mumbai Indians because of the lack of vacancy in the playing XI studded with star batsmen such as Sachin Tendulkar, Ricky Ponting, Dinesh Karthik, Ambati Rayudu and Kieron Pollard. So he was released by MI and bought by KKR ahead of IPL 2014.
He played the whole 2014 season for KKR as a finisher, racking up 164 runs in 16 matches at an average of 33 and strike-rate of 140. His value as a team player increased with good cameos as a finisher and KKR managed to win the trophy for the second time.
In the 1st match of IPL 2015, he smashed 46* off just 20 balls against MI which comprised bowlers like Lasith Malinga, Harbhajan Singh and Pragyan Ojha to win the match for KKR by 7 wickets.
He scored his maiden IPL fifty in 2016 season, a 60 runs off 49 balls for KKR against Rising Pune Supergiants, helping KKR win by 2 wickets. However, inconsistency with the bat in a couple of IPL seasons forced KKR to release him for the 2018 IPL auction, only to be picked up by Mumbai Indians again!
Suryakumar Yadav hits a boundary (IPLT20 | Twitter)
Also, he performed consistently well in Ranji Trophy, as well as in Vijay Hazare Trophy over the years, even captaining a few matches for Mumbai.
However, IPL 2018 was a breakthrough season for him as he amassed 512 runs in just 14 matches at an average of 36.57 and a strike rate of 133 with 4 fifties, albeit as an opener.
Embed from Getty Images
He continued this carnage even in 2019 season, now as a No.3 batsman, amassing 424 runs in 16 matches at an average of 32 and a strike rate of 130 with 2 fifties.
Few failures followed in an India A-tour to New Zealand in early 2020, as he scored just 60 runs in 3 "List-A" matches at an average of 20, with a best of 35.
Embed from Getty Images
Though 2020 ruined the world because of COVID-19 pandemic, Suryakumar's ambitions still remained as strong and durable like steel, and once again making a truckload of runs (350+) in this season and even winning matches single-handedly on a couple of occasions, especially the 79* off 43 balls in a run-chase against RCB where he was seen giving a stare to the RCB and India captain Virat Kohli over his non-selection for the upcoming Australian tour.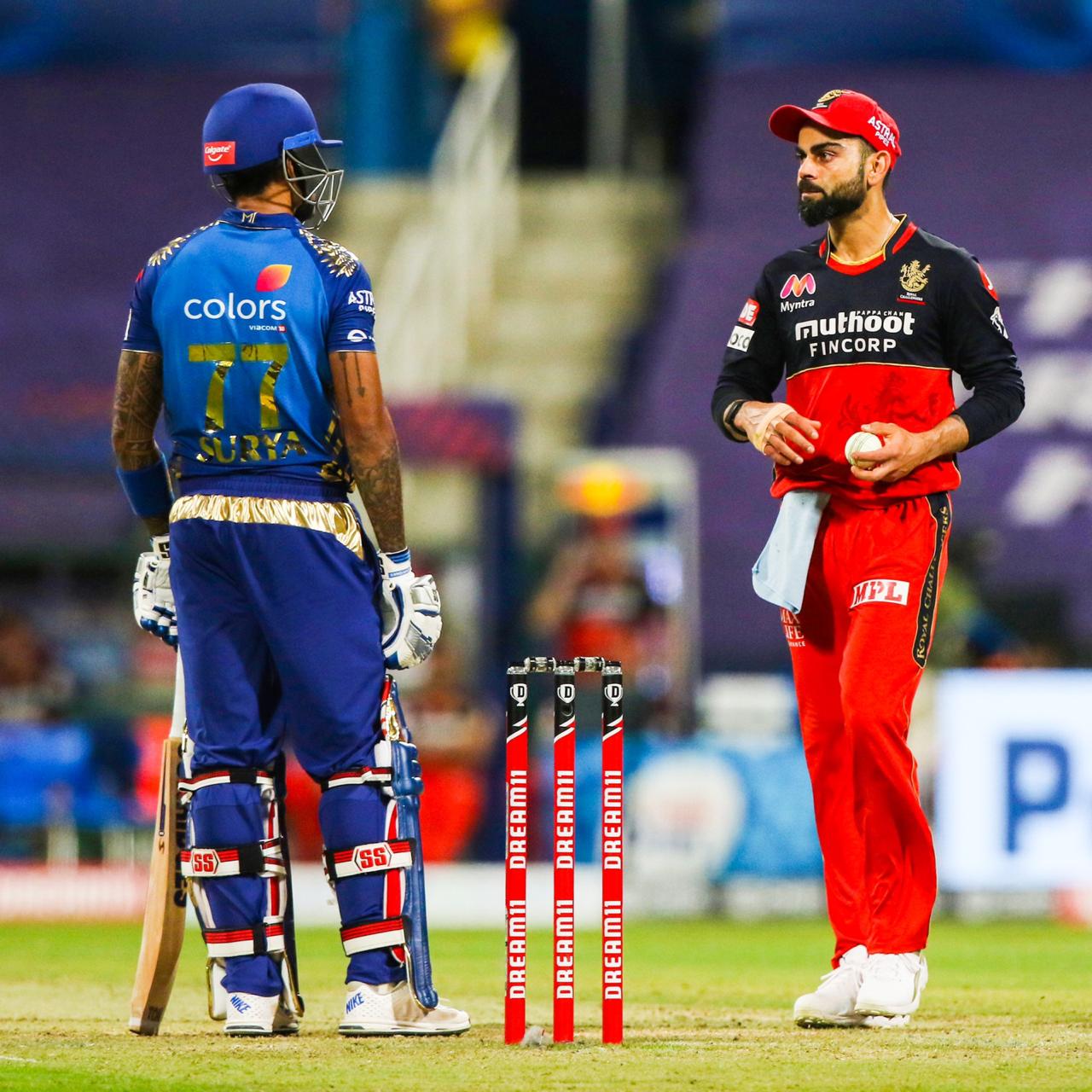 Suryakumar Yadav gives a stare to Virat Kohli. (Twitter/ Mumbai Indians)
Simplicity describes such people best, for them to convert their dreams of playing for India to reality, one needs to just back them at all costs and that's it!
After all, who's saying that being simple and patient is not being strong? This image says it all!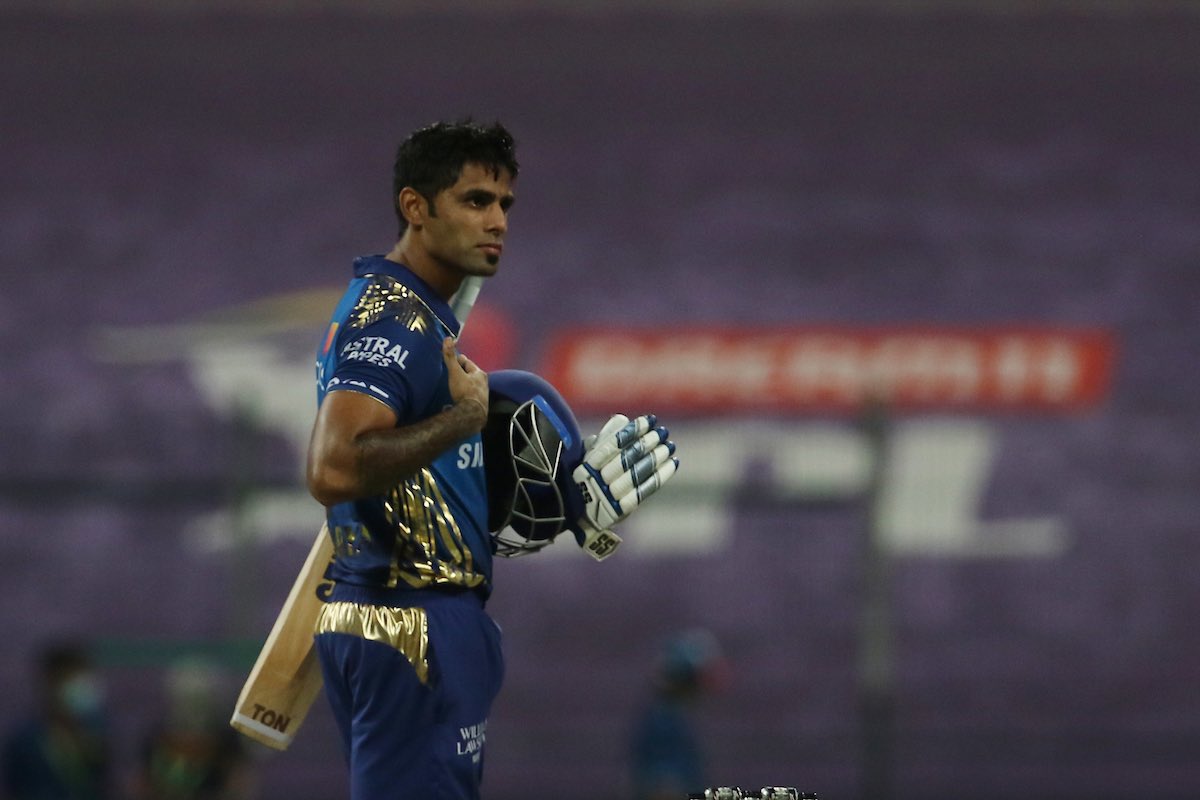 Suryakumar Yadav, the backbone of MI team for IPL 2020. (Twitter/ Mumbai Indians)
Featured Image: Mumbai Indians | Twitter
I'm a mechanical engineer and I've been writing articles related to cricket on Quora since 2017. I've got more than 2.5 million views on my answers and have got close to 600 followers. Apart from writing on cricket, I've also played club cricket for close to 2 years.