Sri Lanka was supposed to host England in March 2020. But due to COVID-19 pandemic, the series got postponed. Therefore, England toured Sri Lanka to play a 2 match test series in January. The series was very important in Sri Lanka's perspective as England had already won 3 tests in Sri Lanka prior to this series. Dimuth Karunaratne and company had this in their conscious mind that they have to improve their home record. Moreover, it was a great opportunity for them to come out with flying colours because Sri Lanka has often been comfortable on subcontinent tracks. They knew the fact that the English seamers won't get as much help from the wicket compared to what they get at home.
Knowing the fact that spinners get the turn and bounce on the Galle wicket, Sri Lanka went with 3 spinners and 1 specialist seamer. While, on the other hand, England went in with 3 specialist seamers and 2 spinners. England got a huge blow soon after landing in Sri Lanka as they lost services of Moeen Ali because of COVID 19.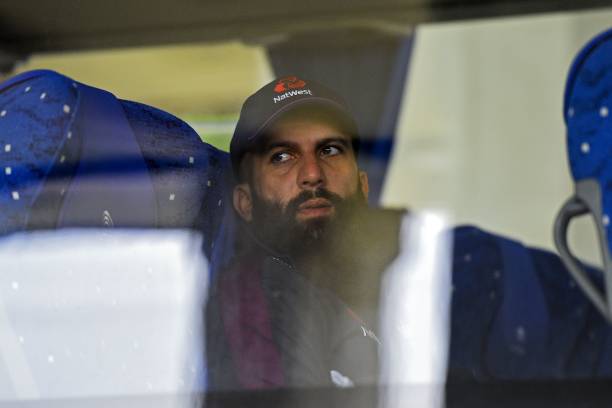 Moeen Ali | Image credit: Twitter
Moreover, Ben Stokes was rested for the series. Stokes was the one who often maintained the balance of the team. Hence, it was going to be a challenging series for England.
Lack of patience in Sri Lanka's batting :
Dimuth Karunaratne had to miss the complete series due to an injury.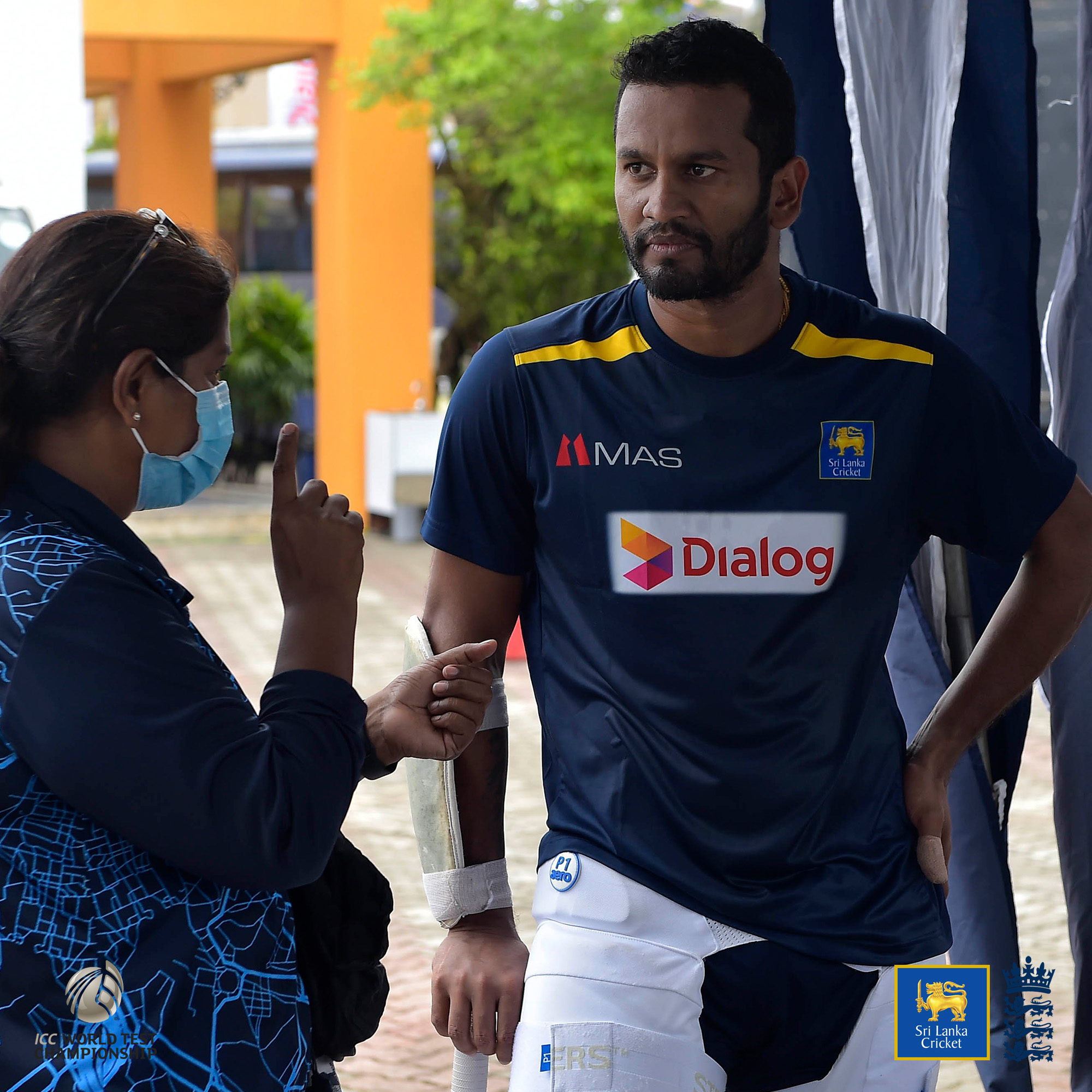 Dimuth Karunaratne | Cricket Sri Lanka(Twitter)
This meant Dinesh Chandimal had to take the command of his team. Ahead of the 1st Test, Sri Lanka won the toss and elected to bat first so as to get some runs on the board and be ahead in the game. Sri Lanka got some early blows on day 1 as they lost their openers cheaply. Kusal Mendis couldn't break his streak of ducks as he got his 4th duck in a row.
Now, Lanka's most dependable batsmen i.e Chandimal and Mathews stabilised the innings and went on to lunch without losing further wickets. Both of them lost their wickets in consecutive overs post-lunch. Chandimal seemed in a weird hurry as he threw his wicket off Leach. The English spinners wiped out the tail restricted Sri Lanka to just 135. Sri Lanka could've just hung in there but most of the batsmen lost their wickets in a hurry. They needed to be a bit more patient. Trying to gain the tempo turned out to be a wrong proposition for Sri Lanka.
First innings was an unacceptable batting performance.

Mickey Arthur, Sri Lanka's Head Coach
Angelo Mathews was one of the few positives for Sri Lanka. He always came in to bat in a tough situation. He gave topmost priority to stabilising the innings and that's what helped him score big. The way he built his inning was exceptional, no unnecessary shots, shown intent wherever necessary against the spinners. Thirimanne too got his form back after scoring a well made hundred. He had no fifty in his last 18 innings and he came back with a ton.
Embuldeniya's magic:
Lasith Embuldeniya had a fantastic series despite the dismal results for the team. England's openers turned out to be the bunnies for Embuldeniya as he got both of them 3 out of 4 times in the series. They were absolutely clueless against him. He enjoyed bowling with the new ball with 2-3 slips in place along with a silly point. His bowling wasn't any mystery being an off-spinner but the thing which troubled the batsmen were his hard lengths. He consistently bowled outside off stumps and allowed the ball to turn. He was giving sufficient flight to the ball and ball was doing the rest.

Moreover, his arm ball was challenging to guess. Arm ball is a variation delivery bowled by an off-spin bowler or slow left-arm orthodox bowler. it does not turn appreciably off the pitch. Instead, it travels straight on in the direction of the arm. Sibley fell in the trap in the second inning of the first test match, he expected an offie and the ball went on straight to hit to stumps.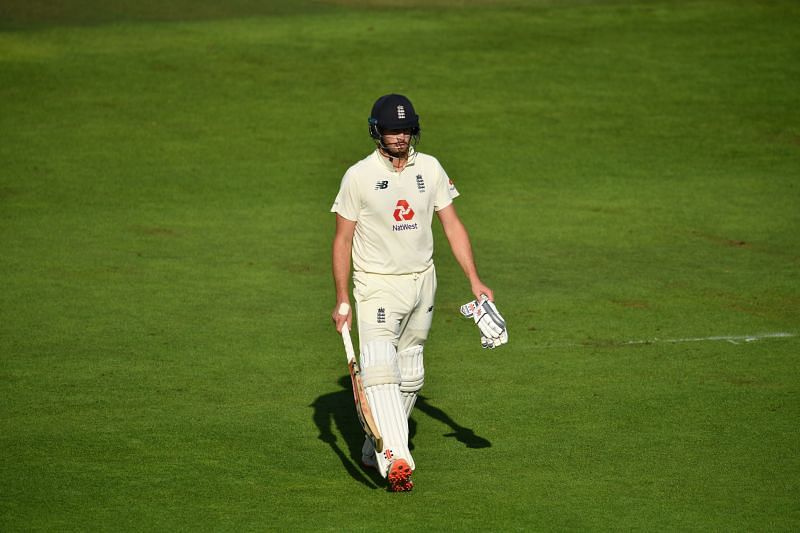 Dominic Sibley | Cricket Sri Lanka(Twitter)
Embuldeniya was the rescuer for Sri Lanka. He maintained the thrill in the last innings of both the test matches with his magic with the new ball.
Root's Masterclass:
Root was the highlight of the series. After scoring a total of 426 runs at an average of 106.5, he overtook the likes of Sir Geoffrey Boycott, Kevin Pietersen and David Gower to become England's fourth highest run-scorer in Test cricket. He lead his side efficiently and maintained his win streak in Sri Lanka. He now has consecutive 5 test wins in Sri Lanka.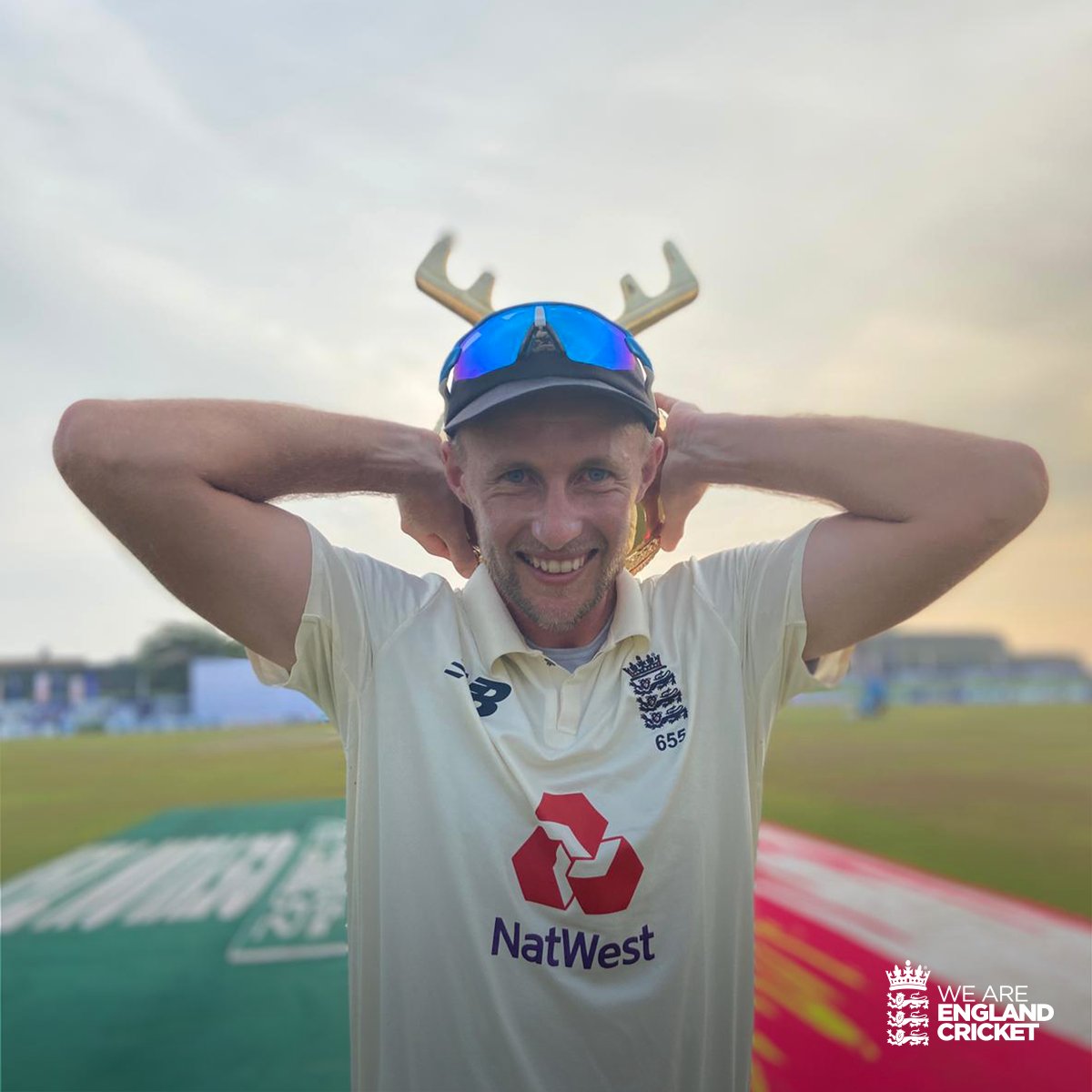 Joe Root| England Cricket(Instagram)
There's so much to talk about his two masterclass knocks. His sweep shots were a treat to watch. Many legendary cricketers termed him to be probably the best sweep shot player in the world at the moment. There were very few false shots in his innings and he got run out twice in the series, this shows how good he was.
How was this series for England in the perspective of India series ahead?
First of all, Root's form is a big plus for England.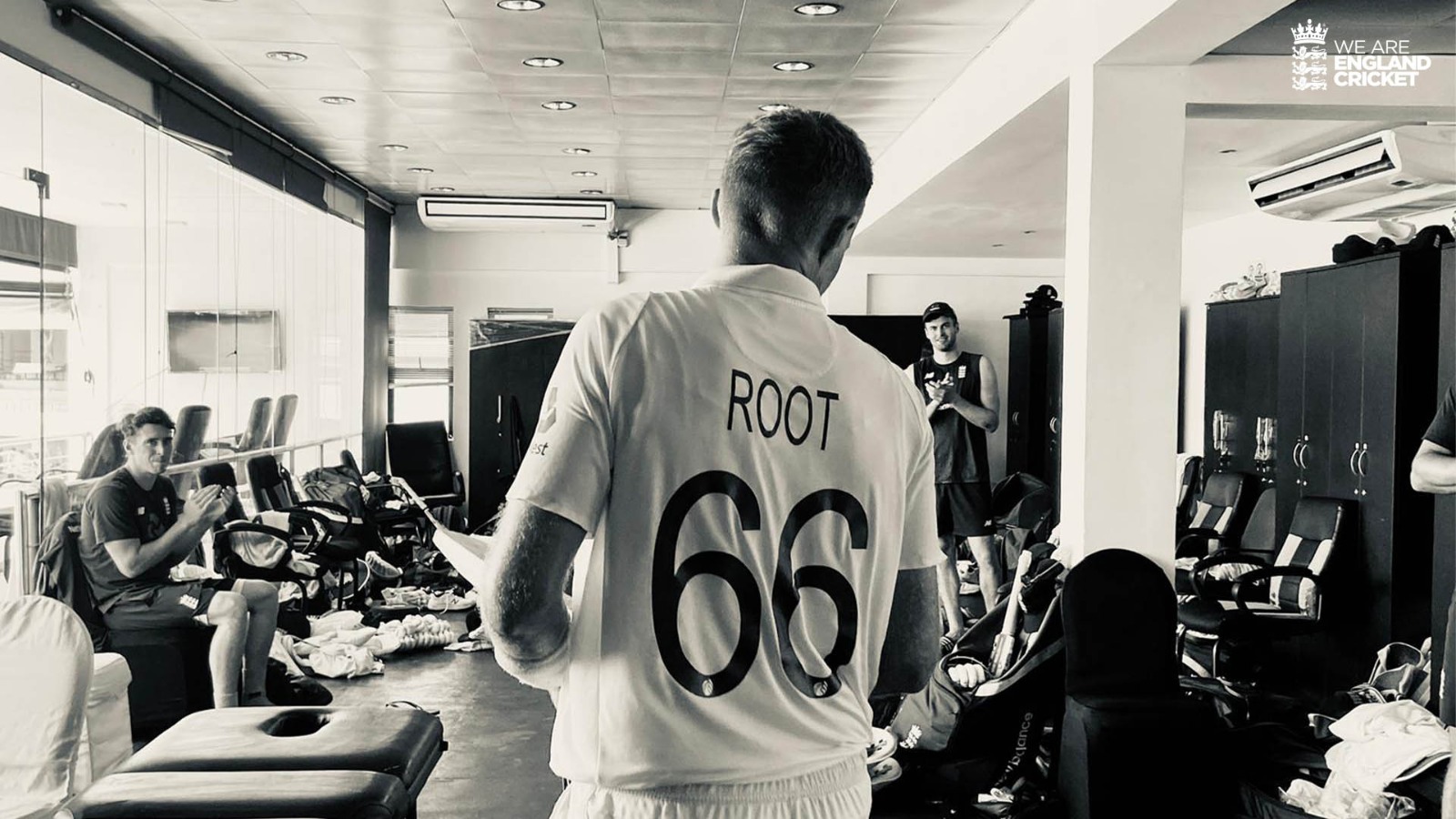 Joe Root| England Cricket(Twitter)
With the openers in their learning curve, it's very important for someone to step up and lead the team from the front. As Bairstow is rested for the Indian series and Buttler has to fly home after the first test, England's batting would get weaker taking in consideration the recent form. Stokes will definitely add true value in the side though.
Secondly, there's a concern in the spin department. Although, Leach and Bess got a fifer in Sri Lanka. They weren't impressive in the test series, especially Dominic Bess. Bess leaked too many runs in the process. It's good that Moeen Ali will return in the squad to take the charge along with Leach who was pitching the ball nicely.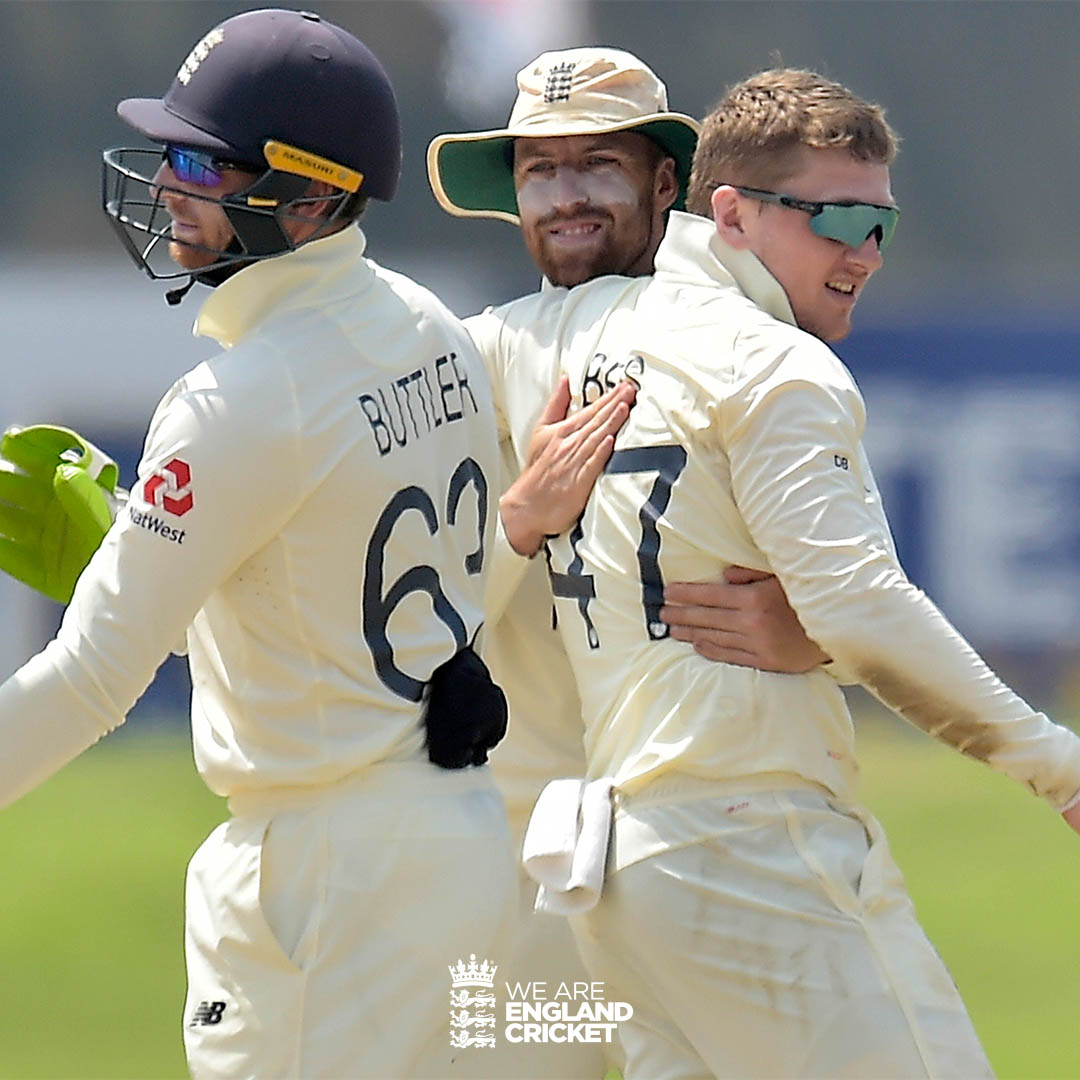 Jos Buttler, Dom Bess| England Cricket(Twitter)
Overall, it will be a fantastic contest between India and England. India has just come back after an unreal test series win against Australia and England is on a winning streak. Are you excited for this cracker?
Featured Image: Joe Root | Instagram


I'm an undergraduate student and I've been writing Cricket articles on Quora for a while and recently I crossed 1 Million content views on my articles on Quora. It's my passion to express my love towards the game.