Shubman Gill and Prithvi Shaw, the two upcoming stars for India came into the limelight after the U19 World Cup in 2018. Although both of them had been splendid in domestic cricket before that, they were introduced to the world after the U-19 World Cup.
Prithvi Shaw came into the limelight in 2013 after making the record for the highest score by an Indian batsman in minor cricket. He smashed 546 runs during a Harris Shield match at the Azad Maidan in Mumbai. Shaw's innings lasted 367 minutes over two days and included a whopping 85 fours and five sixes. Since then, everyone in the cricket fraternity was excited to watch this young prodigy at the highest level.
Prithvi Shaw (Image credit: Indian Express)
On the other hand, Shubman Gill wasn't anything less. He scored 351 in Punjab's Inter-District U16 tournament in 2014, notching up an opening stand of 587 with Nirmal Singh, and then went on to strike a double hundred in his U16 debut for Punjab at the 2016 Vijay Merchant Trophy. He was technically very sound.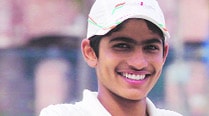 Shubman Gill (Image credit: Indian Express)
The Prithvi Shaw led the U19 team to win the World Cup after defeating Australia in the finals. As expected, Gill and Shaw were in a great form in the tournament. Shubman Gill was the highest run-scorer for India and the second-highest among all the teams in the tournament after scoring 372 runs at a staggering average of 124(which was the highest in the tournament). He was also awarded Player of the Series. Shaw, on the other hand, led the team well and scored over 260 runs. Both of them were fast-tracked into the IPL. Their journey to represent India on the highest stage had started.
India debut:
Prithvi Shaw:
Shaw debuted in the Indian Test team against West Indies. He broke a number of records in his first innings itself. His 99-ball century was the third-fastest by any batsman on Test debut. Moreover, there were only 3 batsmen who scored a century on their Test debut at a younger age than him. Shaw, who loves pace on the ball has a similar strategy to that of former Indian batsman Virender Sehwag: "See the ball, hit the ball".
Embed from Getty Images
Sehwag was a solid opener. He never tried too many things and kept it simple. Same goes with Shaw. He knows how to find gaps and how to place the ball. Later on, Shaw debuted in ODIs against New Zealand in early 2020 replacing the injured Rohit Sharma. He did a decent job in the ODI series too.
Shubman Gill:
A technically sound batsman, Gill was in the limelight because of the talent he possessed and the promise which he showed in the IPL. He debuted against New Zealand last year, and Sunil Gavaskar remarked:
Shubman Gill was nervous on debut but he has a future with India.
Shubman Gill takes a run (Image Source: Cricket World Cup | Twitter)
He didn't have a great debut as he scored just 16 runs. Gill also missed the squad for the ICC World Cup 2019.
Technique Evaluation:
When we have a close look at their techniques, we can notice the finer aspects.
Shaw has unreliable footwork. As mentioned earlier, Shaw is a similar batsman like Sehwag. Both of them love the pace on the ball so that they can dismantle it. But, the other side of the coin is that both of them hardly use their legs while playing any shot. Shaw struggles in the process. There are a couple of instances to prove this. Remember Shaw getting bowled by Archer on the very first ball in the IPL? Let's have look at his footwork.
Prithvi Shaw (Image Source: IPLT20)
Seems ugly, right?
Another instance is the recent one, in the practice match against Australia A. His legs weren't moving.
What does this indicate?
This indicates that he might be inefficient in Test Cricket. We all know, Test Cricket is the hardest format. You have to be technically perfect to tackle the situations in Test Cricket. Although he has a century on his Test debut to his name, going with Shaw as an opener is a tough choice.
Whereas, Gill is a technically sound cricketer.
Embed from Getty Images
Gill is probably one of the most skilful batsmen among the current crop of youngsters. One of the skills which is needed to judge a batsman is his bottom hand technique. Gill's bottom hand technique is very much similar to Virat Kohli which makes him so good. Therefore, India should consider Gill over Shaw in Tests.
As far as limited-overs Cricket is concerned, Gill hasn't been good enough. Shaw has scored runs, hence, he's definitely ahead of Gill in limited-overs cricket.
Featured Image: ICC World Cup | Instagram
I'm an undergraduate student and I've been writing Cricket articles on Quora for a while and recently I crossed 1 Million content views on my articles on Quora. It's my passion to express my love towards the game.