"Tula maanla re Thakur" were the words echoed by Virat Kohli after Thakur won India a decider ODI with an unbeaten 17 runs off 6 balls against West Indies in December 2019. Shardul Thakur has since been in the scheme for India's plans, particularly in ODIs and T20Is.
Thakur has further proved the team management his worth with a match-winning 67 runs against Australia in the series-decider Test at Gabba. Remember, Australia was unbeaten at Gabba for the last 32 years!
Let's look at how Shardul Thakur rose up to the ranks in the Indian Cricket Team.
Early Years
Wonderboy Shardul had to travel from Palghar to Borivali by the Virar Local train everyday to play for his school. Back then, Shardul once hit 6 sixes in an over while representing his school, Swami Vivekananda School in Borivali, Mumbai. He got his First-Class debut for Mumbai in 2012-13 Ranji Trophy. However, he could take only 4 wickets in his first 4 matches at a bowling average of 82 runs per innings.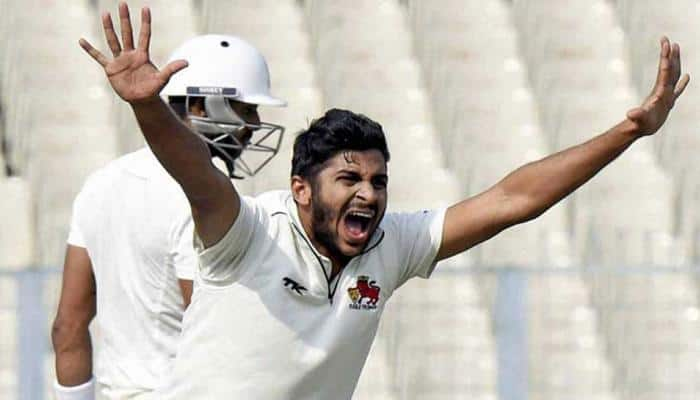 Shardul Thakur in a match against Maharashtra (Image Source: Twitter)
The following Ranji Trophy season, he took 27 wickets in 6 matches at a bowling average of 26.25 and in 2014-15 Ranji Trophy, he took 48 wickets in just 10 matches played. There was considerable improvement in his medium-fast pace bowling. In 2015-16 Ranji Trophy final, he took 8 wickets to seal the win for Mumbai. He took 41 wickets in 11 FC matches in that season.
Selection for the Indian Cricket Team
A call that remains elusive for most of the top performers in domestic cricket, seemed to be tangible for him. He got his maiden call for a Test series against West Indies in 2016, but didn't get a chance to play. He finally got a call to play an ODI against Sri Lanka in August 2017. Shardul bowled economically, taking 1 wicket for 26 runs off 7 overs.
In his 3rd ODI itself, he took 4 wickets against South Africa on a juicy pitch at Centurion. His short-pitched deliveries trouble batsmen very often and he has been doing it despite having a height of 1.75 metres only.
Embed from Getty Images
He made his T20I debut against South Africa in 2018 and took 1 wicket. And, in his 2nd T20I, he took an important wicket of South Africa's stand-in-captain, JP Duminy, while he was batting brilliantly on 55 runs. This wicket changed the course of the match and India won by 7 runs and the series also by 2-1.
On the back of a good IPL 2018 with the ball, he finally got his Test debut in October 2018 against West Indies. He bowled just 10 deliveries before a groin strain ruined his debut Test match. His knack of bowling good in the powerplay and also in the death overs has been noticed by the Indian team selectors.
IPL Career
Thakur represented Kings XI Punjab in just 1 match in 2015 before moving to Rising Pune Supergiants in 2017 season. He took 11 wickets in 12 matches for them.
Shardul Thakur appeals for a wicket (Image: CSK | Twitter)
He played for Chennai Super Kings in the 2018 season and under the inspirational MS Dhoni, he took 16 wickets in 13 matches but was expensive and leaked runs, with an economy rate of 9.23. As of 2020, he has taken 34 wickets in 32 matches for CSK.
Thakur's Present career
Thakur has emerged as someone who can rescue the team with his batting exploits too. He has a penchant to play the short ball well and has good timing, which helps the ball sail over the ropes without much effort. Thakur scored a vital 67 runs in only his 2nd Test against Australia when the chips were down at 186/6, bringing India close to Australia's 1st innings total of 369 runs.
Embed from Getty Images
His bowling has also improved, taking vital wickets at crucial junctures of the match. By any means, he is a team player for sure.
What do you think? Can he become one of the mainstay pace-bowling all-rounders for the Indian Cricket Team? Only time will tell.
Featured Image: Shardul Thakur | Instagram
I'm a mechanical engineer and I've been writing articles related to cricket on Quora since 2017. I've got more than 2.5 million views on my answers and have got close to 600 followers. Apart from writing on cricket, I've also played club cricket for close to 2 years.