Pravin Amre, the batsman who scored a 50 on ODI debut and 100 on Test debut unfortunately didn't have a long career for India. He made his debut against South Africa in 1991, when it got readmission into international cricket. He ended up playing just 11 Tests and 37 ODI's between 1991 and 1994.
However, his coaching has helped a lot of cricketers, who were in bad form, rise from the ashes. Whether it has been the role of a batting coach of a particular team, or whether it is providing one-to-one coaching, he has never disappointed as a batting coach. Cricketers have mostly come to seek technical advice from this coach. Currently, he serves as an assistant coach of the Delhi Capitals.
Embed from Getty Images
There have been many instances of him being a coach and helping teams win tournaments as well as improve a player's personal form. Some of them are:
He coached Virat Kohli in an India-A tour to Australia in 2010. Pravin Amre was very positive after looking at Kohli's intent.
We were in a situation where we lost four games and we had to win all the remaining games and I changed the batting order and asked Virat to open and he came up with two hundreds and, ultimately, we won the final. When we see the development in a player, we look at not only his game but character too. His love for challenges was what made me happy to promote him.

Pravin Amre on Virat Kohli in 2010.
2. He personally coached Suresh Raina before the England Tour in 2014 when the latter had trouble facing short deliveries or bouncers. Suresh Raina had a problem in positioning his body properly while playing a short-pitched delivery. Amre corrected him on his positioning and then he relished himself to a 75-ball ODI hundred in England. His training made Raina face 1000+ deliveries on his ribs and on his head. He had to hit them, thus getting him outside of his comfort zone and make his mindset stronger while playing short balls. Raina had earlier hired Amre as a personal batting coach in 2012.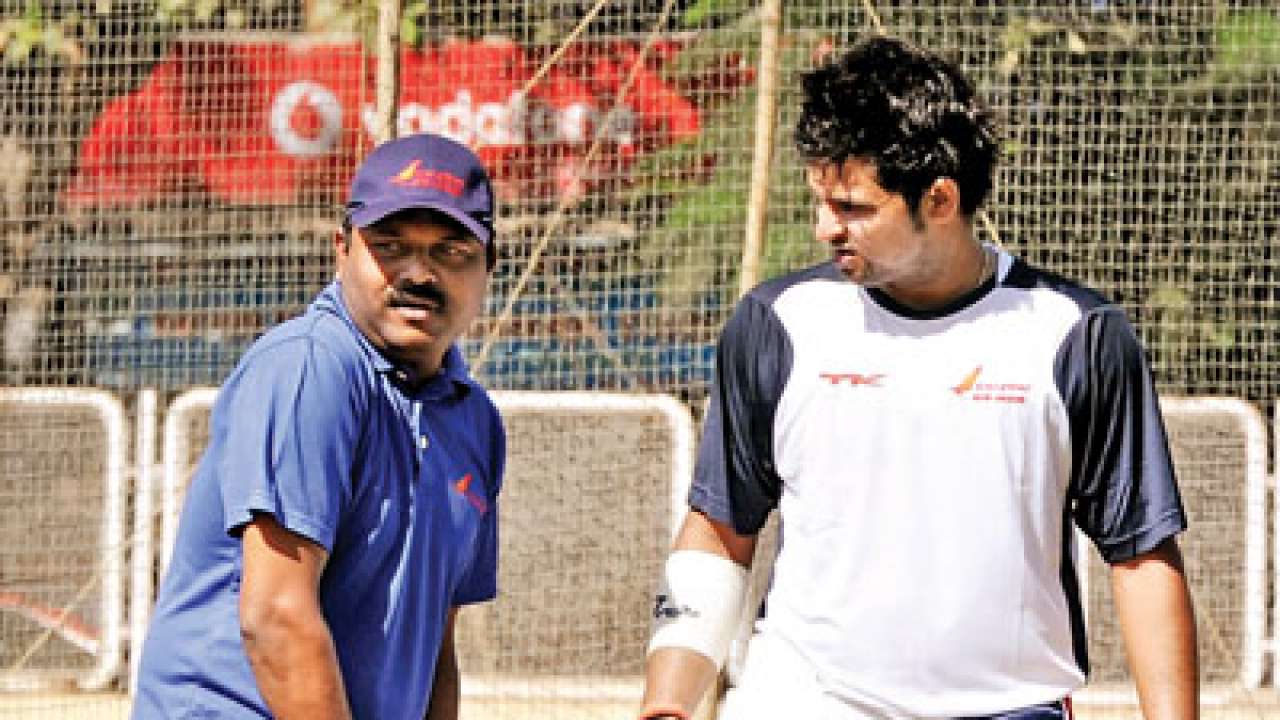 Pravin Amre coaching Suresh Raina (Image: DNA India)
I told him that people think he has a short-ball problem but in his heart, Raina knows that he can face it, and face it well. It was on this minor aspect that we worked on in these four sessions. I just wanted him to play the short-ball with the full blade of his bat.

Pravin Amre on Suresh Raina in 2014.
3. Amre recently coached an out-of-form Prithvi Shaw for five days post the Test series against Australia in 2020-21. Later, Shaw shattered the records by scoring 754 runs in 7 innings in Vijay Hazare Trophy. He averaged 188.50 a strike rate of 134.88, with 4 hundreds. Not only that, but he also captained Mumbai and won the tournament almost single-handedly. He had a productive IPL 2021 too, scoring 308 runs in 8 innings at a batting average of 38.5 and strike rate of 166 with 3 fifties.
We started with video analysis. I showed him what was wrong with his bat swing and the positioning of his feet. Made him realise how the position of his bat face was resulting in lots of clean bowled and caught-behind dismissals. We thought that his footwork was not decisive and he was not coming in good positions to face the ball.

Even during the IPL season, he was getting dismissed too often in first five overs. I told him that whatever plan he has, is not working and we will have to change a few things. As a coach, I had to give him options as to what can work for him. I also told him that we will focus entirely on white-ball as his next few assignments were Vijay Hazare and the IPL. Nobody is going to consider him for red-ball now.

Pravin Amre told Prithvi Shaw in 2021.
4. Pravin Amre coached Ajinkya Rahane also several times about his stance and footwork and it helped him became a better Test batsman in SENA conditions.
Pravin Amre giving tips to Rahane to play spin (Image: Delhi Capitals | YouTube)
5. Praveen Amre also coached former cricketer Naman Ojha in 2014. Ojha then had a very productive A-Tour in Australia, scoring 430 runs in 2 First-Class matches at an average of 430. He scored 3 hundreds, including an unbeaten double hundred (219*).
I worked on three things, which is downswing, meaning when the bat meets the ball, his positioning and shoulder positioning. These things might sound small but it takes sometimes 3-4 months to correct these. And then to make sure that it starts coming naturally in match situation.

Praveen Amre on Naman Ojha in 2014.
Such is the influence of Praveen Amre on several First-Class, International as well as club and age-group cricketers. His technical expertise has helped hundreds of cricketers in the long run and it is true to say that if Sachin Tendulkar is the God of Cricket, then Pravin Amre is definitely the "Guru of Cricket".
Featured Image: IPLT20
I'm a mechanical engineer and I've been writing articles related to cricket on Quora since 2017. I've got more than 2.5 million views on my answers and have got close to 600 followers. Apart from writing on cricket, I've also played club cricket for close to 2 years.