Back in 2016, Lords hosted a 'Legendary Wicket-Keepers Dinner' which was graced by few of the finest keepers from the 1980s and prior to that. As part of a QnA session, when someone asked Jeffery Dujon as who was the fastest bowler he kept wickets to, he immediately answered, "Patrick Patterson". He went on to say:
Patrick Patterson was the quickest of the lot. He made a very marked impression on me on a couple of occasions where I just said, I have never kept to anything this quick.
Embed from Getty Images
For those who don't know, Dujon was a legendary West Indian keeper who has kept when the likes of Ambrose, Walsh, Holding and Roberts were bowling. And none of these was courteous to the batsmen with their pace. And after keeping to all of them, whom does Dujon choose as the fastest? Patrick Patterson.
Patterson was an express quick bowler, who bowled in the 155 – 160 kmph range on a normal day. So quick was his bowling that many batsmen haven't minded edging his deliveries while keeping their bodies as far from them as possible. Even the legendary batsman Graham Gooch once said,
The only time I had the mortal fear and concern for my physical well-being was while facing Patterson at Sabina Park.
Embed from Getty Images
Patterson's Test bowling strike-rate of 51.9 is still considered legendary. Although he had a knack of picking wickets, he went for runs too owing to his express pace.
Giving away too many runs never affected his career much, as he was picking wickets. Patterson played until the early 1990s for the West Indies, until he disappeared one fine day.
His wife and kids had no track of him, his parents too didn't have an idea of where their son was and so did his friends. The West Indies board didn't bother searching much about him. Some independent fans did try to search for him, but a few futile attempts made them lose hope. Few considered him dead too.
Patterson was a 'lost legend' now. He was slowly fading away from people's memories until the advent of YouTube when a user uploaded a video of his bowling from the 1980s which went viral. Many cricket journalists restarted their search for him.
One of such enthusiastic journalists was Bharat Sundaresan, who was popular for his book, The Dhoni Touch, on MS Dhoni. Bharat was very curious to know what was one of his childhood heroes up to. Bharat spent over six years and made three trips to the Caribbean enquiring about Patterson. He spoke to Patterson's parents and cousins and also Patterson's friend, Courtney Walsh. But all this was futile as no one had an idea of what Patterson was up to.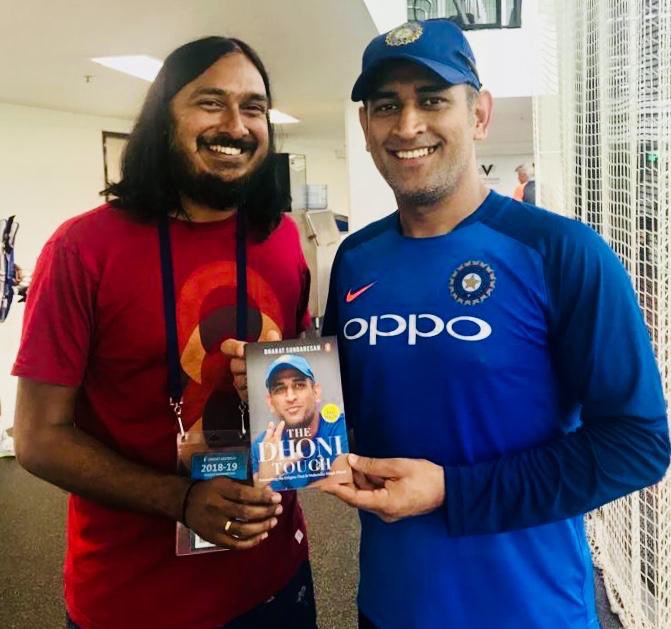 Bharat Sundaresan with Dhoni (Image Source: Bharat Sundaresan | Twitter)
He almost gave up hope of finding Patterson during one of his trips to the Caribbean when he went to cover India's Test match against West Indies. This is when the owner of the place Bharat was living while covering the match in Jamaica heard about Bharat's attempts to track Patterson. The owner himself volunteered to track down Patterson, and by the next evening, he managed to get Patterson's phone number and the address.
But, before handing over the phone number to Bharat, the owner asked,
He told me he has been mentally disturbed for 20 years. Why do you want to meet him so badly?
Love for cricket makes you do unexpected things. And this love for cricket made Bharat track down Patterson too.
Bharat dialled that number to request an interview as Patterson answered the call. Patterson was very reluctant about meeting him. Bharat kept trying for the next couple of days as Patterson denied. On the final day of the India vs West Indies Test, Bharat dialled one last time hoping to convince Patterson for an interview.
Patterson was touched by Bharat's desire to meet him and the fact that he had travelled all the way from India to meet him. Patterson finally agreed to meet Bharat the next day.
All excited, Bharat knocked Patterson's door the next day as his childhood hero opened the door. "Not here, let's go to a bar", Patterson said to Bharat indicating that he didn't want to be interviewed in his house.
As they went to a nearby shack and started talking, Bharat realised that Patterson hardly remembered any of the moments from his illustrious career which many fans had never forgotten. In fact, Patterson only vaguely remembered his own five-wicket haul against the Aussies.
Patrick Patterson in 2017 (Image Source: India Times)
It all traced back to the early 1980s, before his debut for the West Indies. Patterson was roped in to play the Saddleworth League in England. There, while his fellow cricket Wasim Akram was given a luxurious accommodation in the hillside, Patterson was paid peanuts and was sharing rooms with a bunch of musicians.
The next season, he was playing for Tasmania where he was once again mistreated. He wasn't even given enough money to pay for his own accommodation. These two incidents bothered Patterson a lot. Even though things became better for him post his debut for West Indies, these memories still kept bothering him.
After being dropped from the West Indies team, he retired in his home in the rural side of Jamaica doing absolutely nothing. He spent over two decades in the home doing absolutely nothing and going no where. He only started meeting his children around 4 years ago.
Bharat with Patterson (Image Source: Bharat Sundaresan | Twitter)
Patterson gets paranoid often and believes that someone is always watching him and tapping his phone. He believes that he is always in trouble and that's the reason he doesn't like to meet people. This should not have happened to such a ferociously quick bowler.
Bharat was shocked looking at Patterson's state. Upon asking him what caused all this, Patterson pointed to a signboard in the shack which read:
"No drugs and alcohol allowed"
He replied, "That happened."
I am a developer by profession, a passionate Cricket fan and have contributed with articles about this sport on various blogs and knowledge sharing platforms. I have been awarded the Top Writer Award on Quora for 2018 and have over 25 million views and 10 thousand followers on Quora.