While most of the players make it to the headlines after the match, Siraj is one player who made it to the headlines even before he played. Hailing from a poor family and being the son of an autorickshaw driver, it was never easy for him to break into the big league. And even after belonging from such a background, his swift rise up the ranks made millions of eyes watch him closely, even before he made his debut for India.
But it was never easy being Siraj. While his father's low income threw him enough challenges, there was another problem he had to overcome. He represented the Hyderabad team in domestic tournaments. And Hyderabad was always known for batsmen such as ML Jaisimha, Mohammed Azharuddin, VVS Laxman and the latest sensation, Hanuma Vihari. Given the number of batsmen, it was difficult for him to find himself a mentor in bowling.
Embed from Getty Images
But he also overcame that problem. He focused on learning by himself and taking tips from fellow pacers while touring other states. And then came the year 2014, which changed his career. When RCB came to Hyderabad for an IPL game, Siraj was called to bowl in the nets. And he met a person who would change his life, Bharat Arun. Arun, who is now India's bowling coach, was then RCB's bowling coach.
After being impressed by Siraj's bowling, Arun readily accepted to mentor him. And to his luck, Arun became the coach of the Hyderabad team for the next year's Ranji Trophy. And under Arun, Siraj showed immense improvements in his game and was soon picked by Sunrisers Hyderabad in the 2017 IPL.
Siraj played 6 games for SRH in 2017 and picked 10 wickets, but at an economy-rate of 9+. He got a call for the national team later that year and he made his debut for India soon in T20s. But it was a very forgettable debut as he gave away over 50 runs in his 4 overs. He was given chances in two more T20 games, but he failed in those too.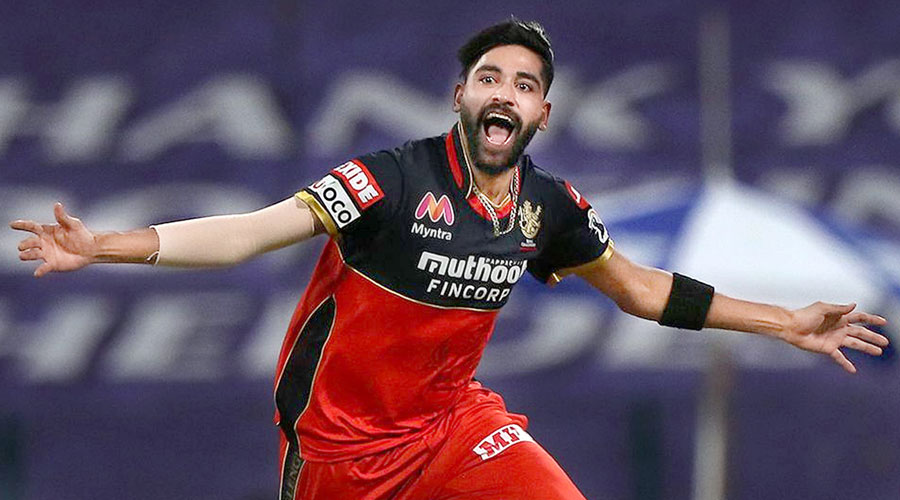 Image Source: Royal Challengers Bangalore | Twitter
After a string of failures, things came to square one for him. He had to build his lost confidence. He was also released by his IPL franchise, SRH. Siraj was now picked by Royal Challengers Bangalore. Playing his first season for RCB, he bagged 11 wickets in the season. This coupled with a decent Ranji season, fetched him a call from the Indian team again, but this time, for ODIs against Australia.
Playing only one match in the series, he once again had a bad game. He failed to pick wickets and also gave away many runs. This made him a victim of the cruel social media trolls who mercilessly mocked his bowling. Once again, he came back to the start. A failure in both T20s and ODIs pushed him back in his career.
But he was meant for the big league. And he was waiting to get into the Indian squad in his most favoured format, Tests. Like many Hyderabadi players, Siraj also wanted to be a Test player for India. The limited-overs games were just add-ons. And after a wait of over and year and a half from his only ODI game, he got a call from the Indian Test squad for the Border-Gavaskar Trophy 2020.
Soon after he set foot on the Australian soil, he received bad news. His father had passed away. Even after being given a choice by the BCCI to quit the tour and leave to Hyderabad, Siraj stayed back in Australia to make his father's dream come true.
For a person who breaks into tears every time he hears the national anthem, imagine how hard it would be not attending his father's funeral. To keep him focused, Hanuma Vihari and the fielding coach, R Sridhar would spend lots of time with him. While Vihari was Siraj's captain in the Hyderabad team, Sridhar also hailed from Hyderabad and the three would spend time speaking about Hyderabad.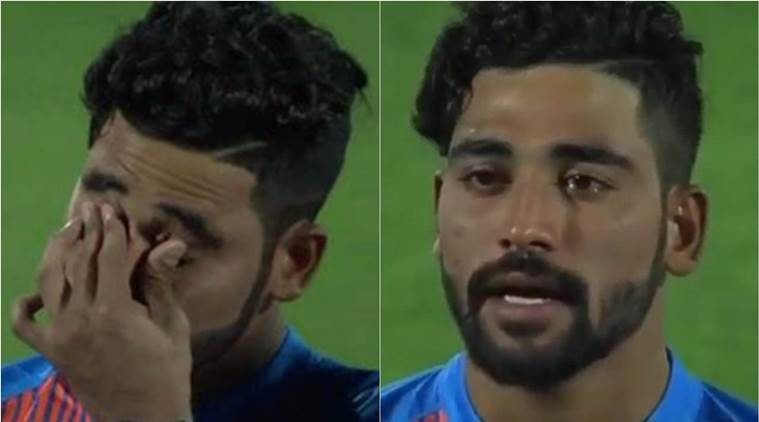 Image Source: Twitter
After being kept out of the team for the 1st Test match, Siraj was selected to play the 2nd game in place of his injured senior, Mohammad Shami. And he made an instant impact picking 5 wickets in the game. He also picked a couple of wickets in the next game bowling on good line and lengths. Apart from this, he also flagged the racist abuse by the spectators and got them dismissed from the stands. While many players would have stayed calm to avoid embarrassment, Siraj was gutsy enough to lodge a complaint about this.
Embed from Getty Images
But the fourth and final Test of this tour was a real challenge for him. He had just made his debut a fortnight ago, and now, he had to lead the pace attack filled with players having a lesser experience than him. He picked 6 wickets in the crucial game and also kept on speaking to the other bowlers giving them words of advice.
Now, Siraj who was earlier being taken for a ride in the social media, became a social media darling for his fighting spirit and brilliant bowling. He has definitely shown that he belongs to the big league. And if he continues with the same fighting spirit, he'll only see more success.
Featured Image: Mohammed Siraj | Instagram
I am a developer by profession, a passionate Cricket fan and have contributed with articles about this sport on various blogs and knowledge sharing platforms. I have been awarded the Top Writer Award on Quora for 2018 and have over 25 million views and 10 thousand followers on Quora.