Over the years, Virat Kohli has been the heart and soul of Royal Challengers Bangalore in the Indian Premier League. Right from the time when he was picked by RCB at $30,000 in 2008, Virat Kohli has been playing for the same franchise. Virat, in his journey, has broken innumerable records in IPL. Out of these, the maximum have come when he has batted as an opener. Kohli has a stellar record as an opener in IPL history.
He used to open with Chris Gayle quite often. They used to love playing with each other despite having slightly different styles of play. By the way, Virat and Gayle hold the record for the most number of 100+ partnerships in IPL history. That tells you about their camaraderie batting with each other.
Having said that, Virat as an opener definitely had a great time but not the best. The best of him as an opener came in the year 2016.
IPL 2016 -The Dream season:
Every player has a period of purple patch in their career. Virat Kohli was having that moment in his IPL career in 2016. He was in terrific form. He set too many milestones that year including 4 hundreds in a single season, most runs in an IPL season, etc.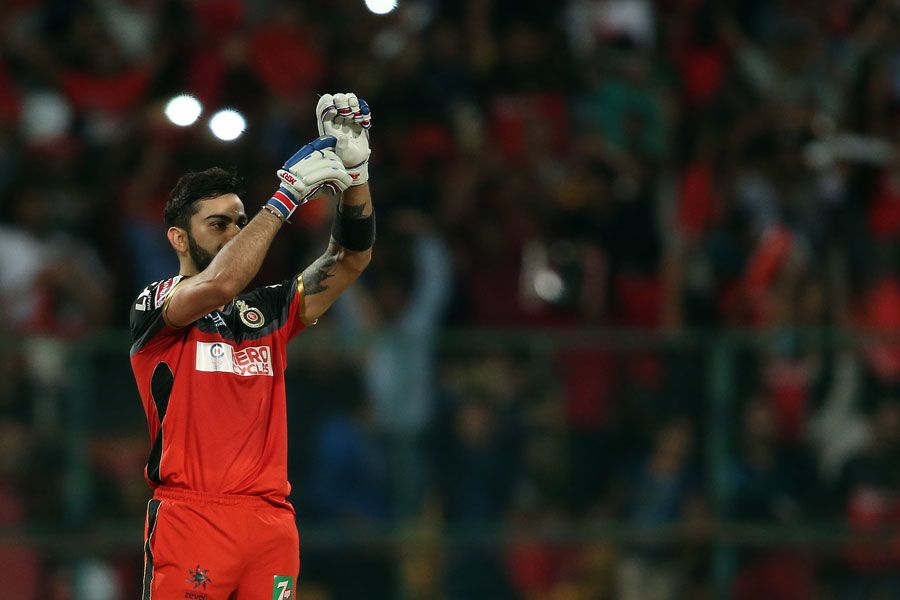 Virat Kohli after hitting a century (Royal Challengers Bangalore | Instagram)
What did he do right in the IPL 2016:
Mindset and approach:
Virat has always been a technically sound batsman. It's always the mixture of a good mindset and a good technique that helps any player to prevail. Yes, he was in great form. But, the thing to notice was he carried that form in every match. He was having a clear mindset of when he wanted to attack when he didn't.
His batting approach helped him a lot in that season. He was being aggressive in the powerplay but at the same time, he was making sure that he does not get out playing a bad shot. He was not being reckless. Kohli attacking the spinners is what's been missed off late.
Virat Kohli gets out (Rajasthan Royals | Instagram)
Kohli hasn't been able to go big against spinners as they have been controlling his mind, leg spinners especially. He doesn't seem that confident against spinners as he used to be in IPL 2016.
Understanding the role:
He did understand his role very well that year. The difference between today's Kohli at number 3 and Kohli as an opener in 2016 is very simple. Kohli, then, was able to make most of his position as he had some freedom. Kohli, now, is an anchor who doesn't play freely. Moreover, Kohli in the 2016 season, was quite proactive with his attitude.
Virat Kohli hits a six (Royal Challengers Bangalore | Twitter)
He was stepping out against fast bowlers in the Powerplay. He can still do that, but it's just that opening position has suited him a lot.
Why did he stop opening the batting later?
Virat Kohli didn't really stop opening the batting after IPL 2016, he was still opening the batting in most of the situations. He opened most of his games in IPL 2017. He didn't open much in IPL 2018 due to the presence of too many openers in the team. The RCB skipper did well as an opener in 2019 as well. He didn't open in the 2020 season just because, Aaron Finch(experienced opener) had that place along with youngster Devdutt Paddikal.
Hence, he didn't really stop opening the batting. He was just shifting his position with renowned openers in the team already.
How will Kohli as an opener help RCB in the IPL 2021?
It'll definitely help RCB in every other way. Kohli as an opener has done a tremendous job over the years. Moreover, his fearless attitude comes out only when he's opening the batting. He has 5 centuries in the IPL history at the same position. With Glenn Maxwell coming in the side, Kohli can surely be more aggressive at the top. If the RCB middle-order gives some confidence to Virat, we can expect a few more centuries from him this season.
Featured Image: Royal Challengers Bangalore | Instagram
I'm an undergraduate student and I've been writing Cricket articles on Quora for a while and recently I crossed 1 Million content views on my articles on Quora. It's my passion to express my love towards the game.