If we are searching for a model of how to meet tough international challenges with skill, dedication and teamwork, we need to look at the Afghan national cricket team.
The following lines were said by Hillary Clinton when she was addressing the media in the USA back in 2010. Now, the USA is a country with no relation to cricket, and when it wants to take a leaf from the Afghan team, it gives us a very interesting narrative.
Hillary Clinton in 2010
The story of the Afghan's rise and rise in Cricket is no less than a Bollywood story. And what makes this fairytale more amazing is how Mohammad Nabi's rise in cricket grew parallelly with it.
The Genesis
Mohammad Nabi was born in 1985 to a wealthy Afghan family which had to flee to Pakistan to escape the Soviet-Afghan war. They were left on the roads in Pakistan. As there was a shortage of commodities, he started playing with paper balls and cardboard bats. That's how he got introduced to cricket. He used to play in the streets of Pakistan with fellow Afghan kids.
Back home, Afghanistan was undergoing a bad time. The entire country was struck by wars, terrorism and poverty. The Taliban had reduced the country to a literal nothing. People fled to neighbouring countries as refugees. Taliban had banned all kinds of sports in Afghanistan.
Taliban had banned all kinds of sports in Afghanistan
Just like Nabi, many Afghan refugees started playing cricket in Pakistan. They formed a cricket board for the Afghans within Pakistan called the Afghanistan Cricket Board(ACB) in 1995.
The Growth
Somewhere around 1995, Mohammad Nabi as a teenager, started playing tennis-ball cricket. He was making the right noise among the cricket players in Pakistan
In 2000, the Taliban lifted the ban on cricket in Afghanistan. Apart from cricket, many other rights of the Afghan natives were reinstated in their home country. The children now started to play cricket on the roads. Cricket became a household game within a little span of time.
Nabi's family moved back to Afghanistan. ACB now approached the Pakistan Cricket Board to help them file an application with the ICC. Impressed by the growth of Afghan Cricket in 5 years, ICC granted them the status of an Affiliate Member within a few months.
ACB became the first country to have gotten the application accepted by the ICC in less than 6 months.
The Recognition
Nabi was now a popular player in the Afghan circuit. He was invited to play for many Pakistan first-class teams. This is when a dash of luck came his way. The Marylebone Cricket Club(MCC) was on a mission to popularise cricket among the associate nations and visited Mumbai to play against a few of them. As part of this, the Afghanistan team led by Nabi faced the MCC XI. The MCC XI featured the English great, Mike Gatting, and the Afghanistan team beat MCC XI by 171 runs.
Impressed by this, Gatting made Nabi a member of the MCC's Young Cricketers program in England. He got to bowl in the nets to legendary batsmen like Sachin and Inzamam.
Mohammad Nabi in 2008
Nabi kept transferring all his learnings from the MCC to the Afghan Cricket team which was slowly making inroads in the International circuit. Nabi was now part of the Afghanistan team which moved from Division Five to Associate Nation in just a year. In this period, the team defeated many affiliate members and now on the road for an ODI Membership.
Continuous victories made ICC grant the ODI Status to Afghanistan for 4 years. Nabi was a part of the Afghanistan team which played the nation's first T20 International as well as ODI.
The Rise of Afghan Stars
After being granted the ODI Status, the Afghanistan team climbed up the ladder by defeating teams like Ireland, Zimbabwe and Scotland. They were granted an Associate Membership of ICC with ample support from BCCI and PCB. They were now regular contenders in the T20 World Cup. But, the results weren't really great.
They also took part in 2015's World Cup, but only had 1 victory to show. Their quick rise on the International stage was marred by failures against top sides.
This was a time when another cricketer who grew up in the shadows of their cricketing backbone, Nabi, emerged. Rashid, idolised fellow spinners Nabi and Shahid Afridi.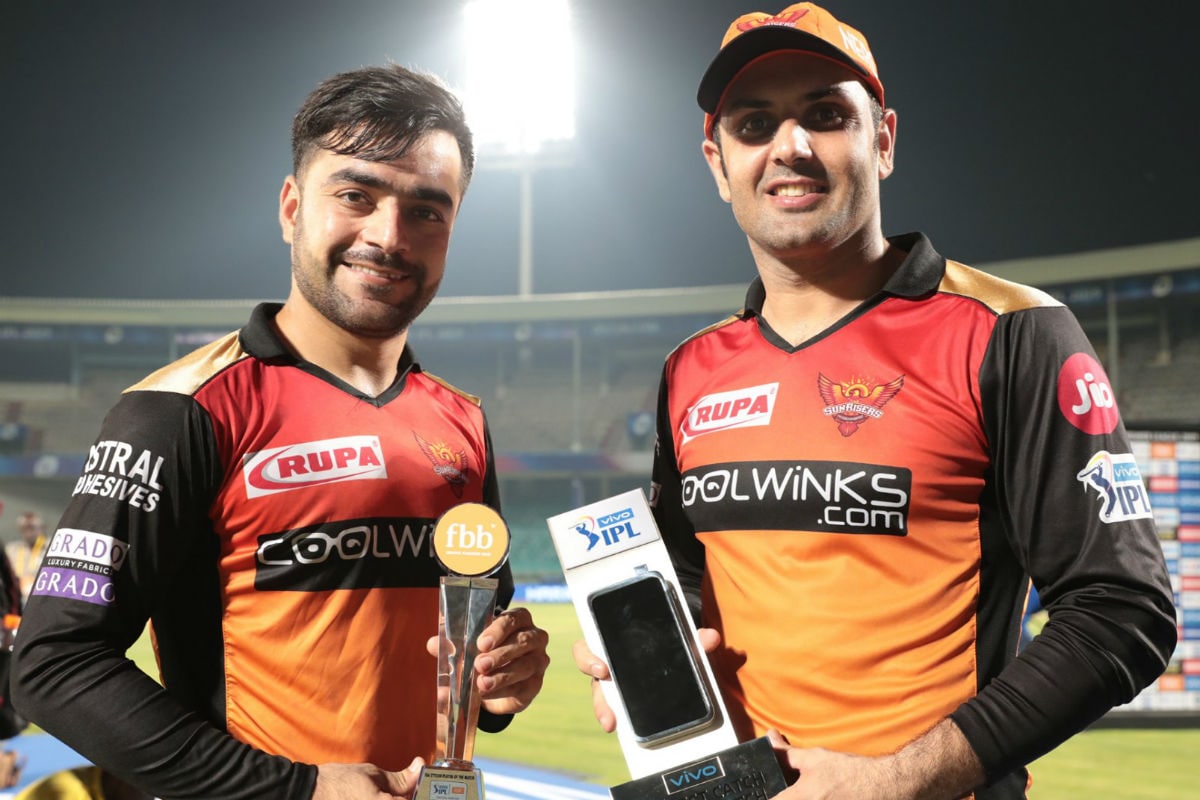 Rashid Khan was heavily inspired by Mohammad Nabi's journey in cricket (Image: SRH | Instagram)
Rashid Khan was a straight-up revelation. He too was once a refugee taking shelter in Pakistan. With Rashid's debut, Afghanistan started giving tough battles to major International teams.
Crossing the Final Hurdle
In less than 10 years of being granted the Associate Membership, with BCCI's support, the Afghanistan Team was granted the Test status in 2018. They won their first Test match in 2019. Nabi was a part of both the squads.
Unknown to many in India, Nabi inspired hundreds of young Afghans to take up cricket. He was the first Afghan player to play in a domestic T20 league and was also the first Afghan player to get picked up in the IPL. Currently, Afghan players such as Rashid Khan, Mujeeb-ur-Rahman and Mohammad Shahzad are in demand in T20 leagues all across the globe.
Nabi, who has been the chief architect of Afghan cricket is now the member of the Afghan Cricket Board and this makes it for a rare case in which an active cricketer is also a member of the nation's cricket board.
This is the story of Afghanistan's Cricket and its chief architect Mohammad Nabi, which grew together, the most beautiful tale of hope in cricket.
Featured Image: Mohammad Nabi | Afghanistan Cricket – Twitter
I am a developer by profession, a passionate Cricket fan and have contributed with articles about this sport on various blogs and knowledge sharing platforms. I have been awarded the Top Writer Award on Quora for 2018 and have over 25 million views and 10 thousand followers on Quora.