"The time is right to walk into a next chapter"
Former South African captain Faf du Plessis has retired from Test Cricket after representing his country in 69 test matches. In the statement, he said that he wanted to concentrate on T20I's, in particular, considering the two ICC T20I World Cups coming ahead. Faf debuted in Test cricket in 2012 in Australia and thereafter it was a roller coaster ride for him. There were many challenges that came in front of him throughout his career, both technical and mental. Let's have a look at his journey and key moments of his test career.
Rugby or Cricket
Faf du Plessis was a huge fan of Rugby. He used to play Rugby in his primary school. At the age of 16, he had to decide between Rugby and Cricket as a professional career. He used to love watching and playing the gentleman's game, but his father preferred him playing rugby over cricket. Later, Faf ended up playing Cricket.
Best Friends
AB de Villiers and Faf were big rivals at the primary school level wherein they played against each other for 4-5 years. They were extremely competitive, they never used to even talk with each other. Later, they ended up being in the same high school and they were hostel mates as well. Their friendship started to grow thereafter.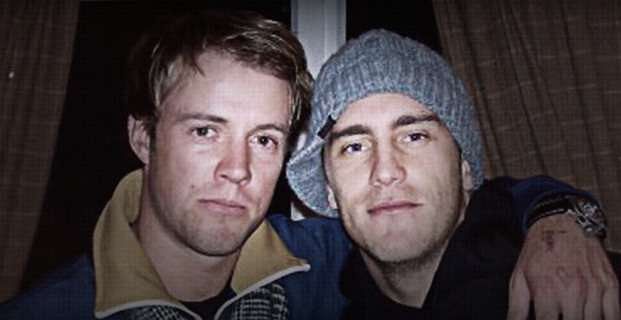 AB de Villiers and Faf du Plessis (Image: Cricket Archives)
Faf was so close to AB, that he applied for a degree in Sports science just because AB applied for the same. Later, both of them together decided to leave the degree and focus on sports.
The Nation over Everything
Nottinghamshire offered a Kolpak deal to Faf du Plessis with a conditional clause that said that he would have to qualify for England. He refused the offer as he wanted to play for South Africa and represent it in some sport. He would've earned 10 times more than what he was earning if he would've accepted that offer. Faf was proud of his decision when he debuted for South Africa in Test cricket 7 years later.
"I just had this burning desire inside me to play for South Africa and I was too young to just give it up".
Dream Test debut
Although AB and Faf started playing Cricket at the same time and played Cricket together throughout their junior career, Faf debuted in Test Cricket when AB had already played 79 Test matches. But, Faf du Plessis had one of the best test debuts in the history of cricket. Faf was selected as a reserve batsman in the Australia tour. He wasn't expected to play. Unfortunately, JP Duminy ruptured his left Achilles' tendon during a fitness training drill. This meant Faf had to play.
It was a dream come true moment for Faf as he had to wait for this moment for approximately seven years.
Australia batting first, scored a mammoth total of 550 runs. South Africa in reply did get a good start with Graeme Smith scoring a ton with fine support from Alviro Petersen. Coincidently, Faf came into the middle with AB de Villiers being on the other end. Both of them played Cricket together for most of their childhood. It was a great moment for Faf. Soon, AB had to depart. But, Faf got himself hang in there and scored a well-made half-century.
Embed from Getty Images
In the second innings, he returned to the crease having no other choice than to bat for close to four sessions to save the test. He came into the middle when the team was 45-4. The situation was super tough. The fast bowlers were enjoying the reverse swing they were getting, especially Peter Siddle who was in red hot form.
Faf battled the bowlers and also tolerated the Aussie sledging. He and AB decided to leave all the deliveries outside the off-stump and block all the deliveries which were on the body. Both of them batted together for 68 overs. Unfortunately, AB got out 3 hours before the end of the day's play. Now, it was all on Faf to deliver. He eventually scored his debut hundred. He saved the match and also won the 'Man of the Match' award.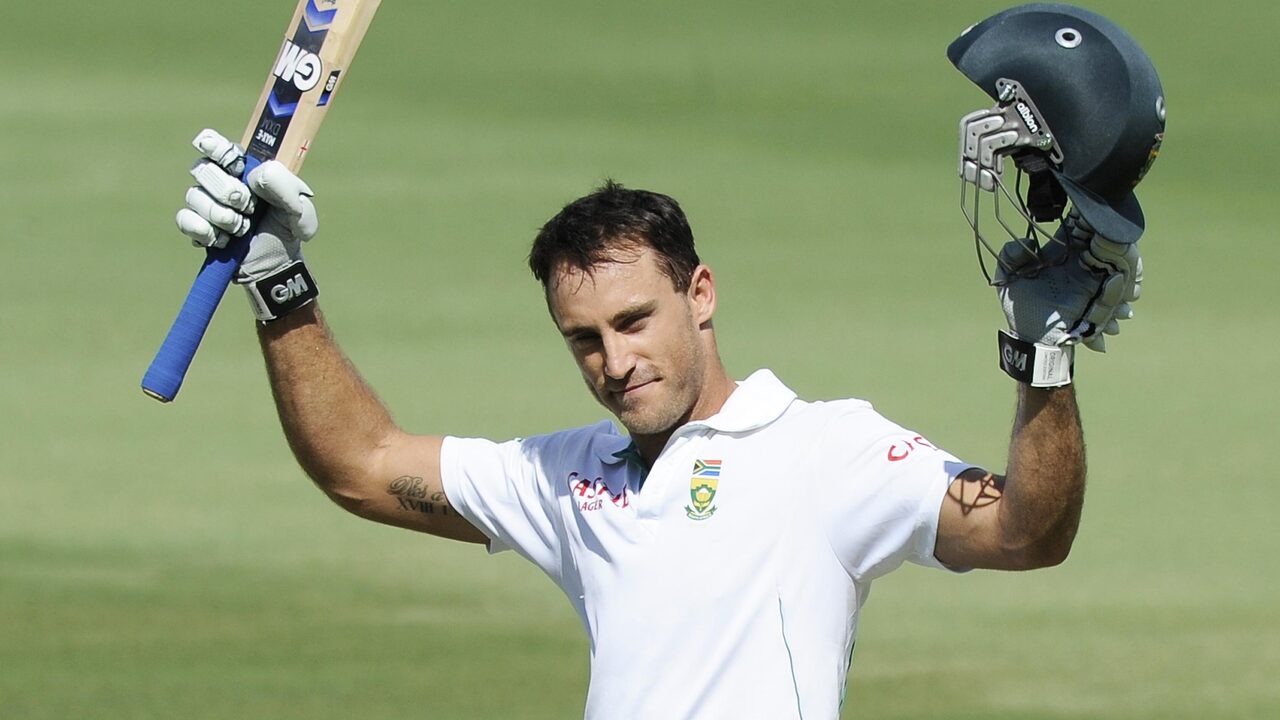 Faf du Plessis celebrates his first century (Image: Cricket South Africa)
Ball-Tampering Controversies
Faf du Plessis has been accused of ball-tampering twice in his Test Career. The first one was against Pakistan in 2013, where he was seen rubbing the ball on the zipper of his trouser pocket. The on-field umpires called up South Africa captain Graeme Smith, changed the ball and, in an extremely rare punishment, awarded Pakistan 5 penalty runs. Faf didn't accept these charges as he said he didn't do that deliberately.
The second one was against Australia in 2016 where he was seen shining the ball using the juice of the gum. Although he denied the charges, he was fined 100% of his match fees and was avoided a ban. He responded with a hundred in the following match.
Not a Very Good End to the Test career
With a number of good performances from Faf's bat, he certainly deserved a better ending to his test career compared to what unfolded. Faf's last test was against Pakistan which he didn't think it would be. Faf rather had a disastrous tour in Pakistan. He only scored 55 runs in the 2-match Test series.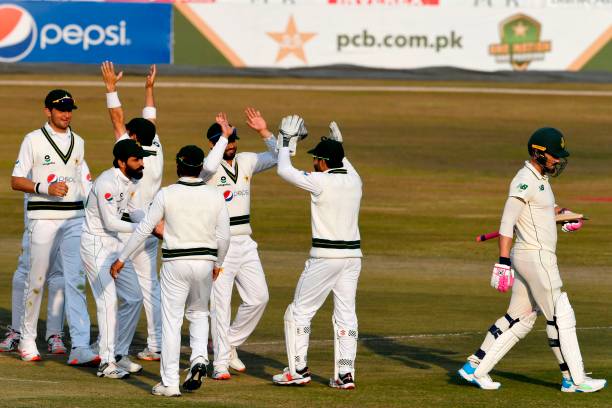 Pakistan players celebrate Faf's wicket (Image: PCB)
Faf expected a home farewell in the Australia series which was going to happen this year. Unfortunately, Australia cancelled the tour because of COVID-19 concerns. As the new variant in South Africa was considered to be more dangerous, Australia took a safer option. And this meant that the second Test match against Pakistan was Faf's last Test match.
I really wanted to finish with the upcoming Test series against Australia. That would have felt like it has all come full circle. I had that clarity of mind and heart and even though the ending is not how I imagined, the clarity remains.

Faf Du Plessis's statement
The 36-year-old ended a nine-year-old Test Career after scoring 4,163 runs in 69 Tests at an average of 40.02 with 21 fifties and 10 tons. He also led the Proteas Test side in 36 tests. Under his captaincy, the Proteas recorded 18 wins, 15 losses and three draws. Faf was a fantastic asset for South African Cricket both as a batsman and as a leader. Proteas Cricket will surely miss him.
Featured Image: Faf du Plessis | Instagram
I'm an undergraduate student and I've been writing Cricket articles on Quora for a while and recently I crossed 1 Million content views on my articles on Quora. It's my passion to express my love towards the game.