The World Test Championship Final is one of the most anticipated contests and is expected to be a fierce rivalry between the two sides in Southampton. Both sides have toiled hard to make their way into the final after playing a number of Test matches right from 2019. It'll be a big occasion as both sides will fight for the high-priced ICC trophy. But, it's also a monumental occasion for one New Zealander. Probably, the best Test wicket-keeper batsman that New Zealand has ever produced, BJ Watling will play his last test in Southampton. He has been a supremely talented player and has always tried to take his team forward. Let's have a look at his test career and his standout performances.
Embed from Getty Images
"It's the right time"

BJ Watling
Sensational performances:
This South-Africa born New Zealand cricketer made his Test debut against Zimbabwe back in 2009 and since then he has been an invaluable part of his side. Here's a look at his resilient performances.
Rock at the other end :
Although he had already made his mark in Test Cricket as a wicket-keeper, he got some recognition after his rock-solid performance which came against India back in 2014. When we talk about the Indian tour of New Zealand, the first name which strikes our brain is Brendon McCullum, isn't it? That triple hundred did frustrate India a lot and there were a number of records that were broken as well. But, if you sit and analyze that game, you'll come to know that the batsman on the other end when Brendon was smashing the Indian bowlers, played a very crucial part.
Brendon Mccullum came into bat when New Zealand was 52-3 and they were soon bundled down to 94-5. Later when Watling came, he had his mindset clear. With not much batting left after him, he decided to work as a solid rock and allowed McCullum to do his part as he was having his day. They both celebrated a gigantic partnership of 352 runs with 743 balls being played between them. Watling made the bowlers drudge. He scored 124 runs in that game.
World-Record Partnership:
Another resilient knock from Watling came on the same ground a year later when Sri Lanka toured New Zealand. He played a similar role alongside Kane Williamson this time around. He didn't change his mindset, he was firm on his technique and didn't even give a single chance to the Lankan bowlers. Again, he made sure that the next wicket doesn't fall at his end.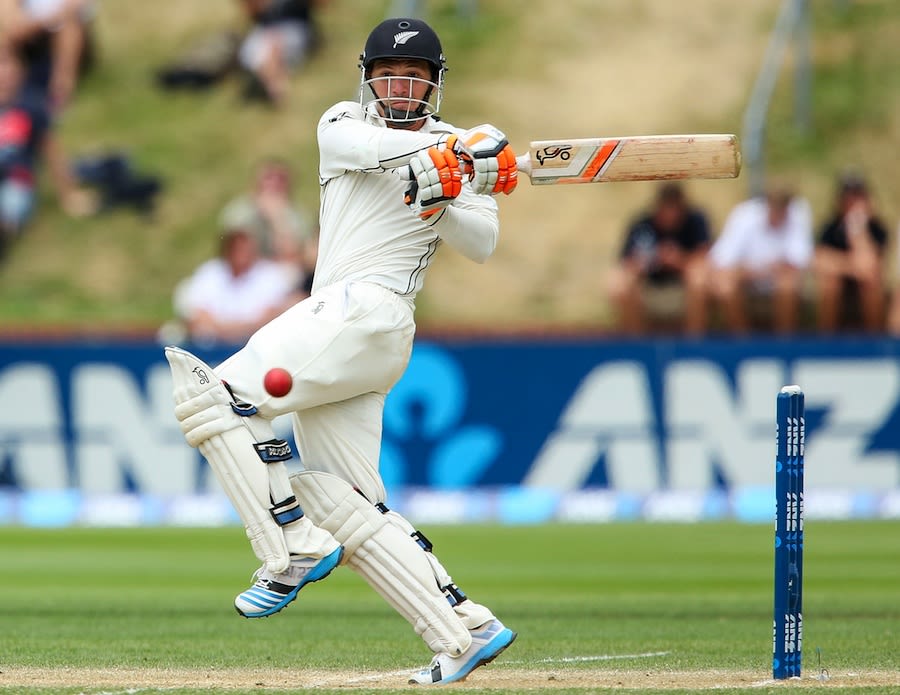 Watling hits a four (Image: New Zealand Cricket | Twitter)
Watling was the part of the highest 6th wicket partnership in Tests alongside McCullum a year before and that record was broken by himself in this partnership. Both of them collectively scored 365 runs in the partnership in 674 balls. Another thing to notice is that both of them were not out at the end of this partnership which is enthralling. Watling remained unbeaten for 142 in that game.
Innings to remember for ages:
Although Watling did play a crucial role in the above innings, he wasn't the one dominating. The breakthrough performance from him came in 2019 where he broke innumerable records with his tenacious effort. Watling batted for 11 long hours against a fierce bowling attack of England including Archer and Broad. The wicket was a bit slow and the only formula batsman could think of was to just hang in there. Watling did exactly the same thing. His marathon innings of 205 runs in 473 balls was the second-best innings in perspective of the number of balls faced by a wicket-keeper in Tests. These innings defined his character.
Embed from Getty Images
Batting in number 6 is one of the toughest tasks and his numbers at that position define his greatness. Nobody in the world has scored more runs at number 6 since his debut. Watling's method of batting is very similar to that of Cheteshwar Pujara. To soak in a lot of balls and toil the bowlers and find an opportunity or two to score runs. Moreover, he holds the New Zealand Test dismissals record with 249 catches (excluding 10 as a fielder) and eight stumpings – the best numbers of any current Test keepers.
After playing 76 Tests for his country, BJ Watling will hang up the gloves with close to 4000 runs in his name, at least 8 hundred, at least 1 double hundred(the only player to get it against England in Tests) and a fantastic wicket-keeper). He'll go down in history as one of the most underrated batsmen and the best wicket-keeper batsman of his time.
"Test cricket really is the pinnacle of the game and I've loved every minute of being out there in the whites with the boys. Sitting in the changing rooms having a beer with the team after five days' toil is what I'll miss the most."

BJ Watling
Featured Image: BJ Watling (Image: New Zealand Cricket | Instagram)
I'm an undergraduate student and I've been writing Cricket articles on Quora for a while and recently I crossed 1 Million content views on my articles on Quora. It's my passion to express my love towards the game.