Modern cricket makes all-rounders very important for every team. Well, it's obviously really good when you have 2-4 guys who can chip in with valuable runs, as well as, bowl few overs when the main bowlers are having a bad day. For India, the main all-rounders for the past few years have been Hardik Pandya and Ravindra Jadeja. Apart from them, India hasn't yet found a great all-rounder. Here are 5 options that India could try for the T20 WC as a backup for Jadeja and Hardik:
1. Rahul Tewatia
Rahul Tewatia has been a revelation in the IPL 2020. While all the hype was around the Rajasthan Royals stars such as Steve Smith, Jos Buttler and Ben Stokes, Tewatia was an all-rounder who lit the stage with his exceptional performances.
Tewatia hits a six (Source: Rajasthan Royals | Twitter)
Tewatia can be a great backup for Hardik or Jadeja. Tewatia was a mere bowler before this season, but after the match-winning performance against Punjab, he has been nothing short of outstanding as a batsman too. And in the field too, he was great. A proven all-rounder like him who could chip in with handy runs and take crucial wickets is nothing but a boon for Team India.
2. Vijay Shankar
India doesn't have many pace bowling all-rounders apart from Hardik. And, if Hardik gets injured, Vijay Shankar could be a great option. The Tamil Nadu captain has been a decent all-rounder for India in the shortest format of the game, though he played only 9 games. But in the IPL, Vijay Shankar has played some handy knocks playing as a sheet anchor for the sides.
Embed from Getty Images
Remember the time when he and Manish Pandey eased the chase against the Royals when Archer ran over the top order. With the ball too, he has been someone who could chip in with some wickets. Although he hasn't done much in the international circuit with the ball, he has been pretty decent with an economy of just over 8.
3. Shivam Dube
Almost hailed as the next Yuvraj Singh, Dube hasn't yet matched Yuvi's class. But yes, he has got the ability to clear the ball over the fence with such ease. Although Dube averages less than 20, he could hit some huge sixes and those quick-fire cameos could help India reach to a good score.
Embed from Getty Images
In the recent edition of IPL, Shivam Dube has really chipped in with a lot of cameos, like the quick-fire 27 he scored against Mumbai Indians in a tough situation. With the ball, he hasn't delivered much, except for his took 4 wickets in the first two matches. Having said that, he is keen on improving his bowling. He also scored 34 runs off a single over in a domestic T20 game in Mumbai. He too is someone India could look for in the T20 WC.
4. Washington Sundar
Washington Sundar is most often used as a powerplay bowler by the Indian team. However, he could also be an exceptional all-rounder too for the side. We all know how economical Sundar is in the shortest format of the game. Although he doesn't take many wickets as the other bowlers, Sundar's lines and lengths are incredibly hard to hit which makes him an economical bowler.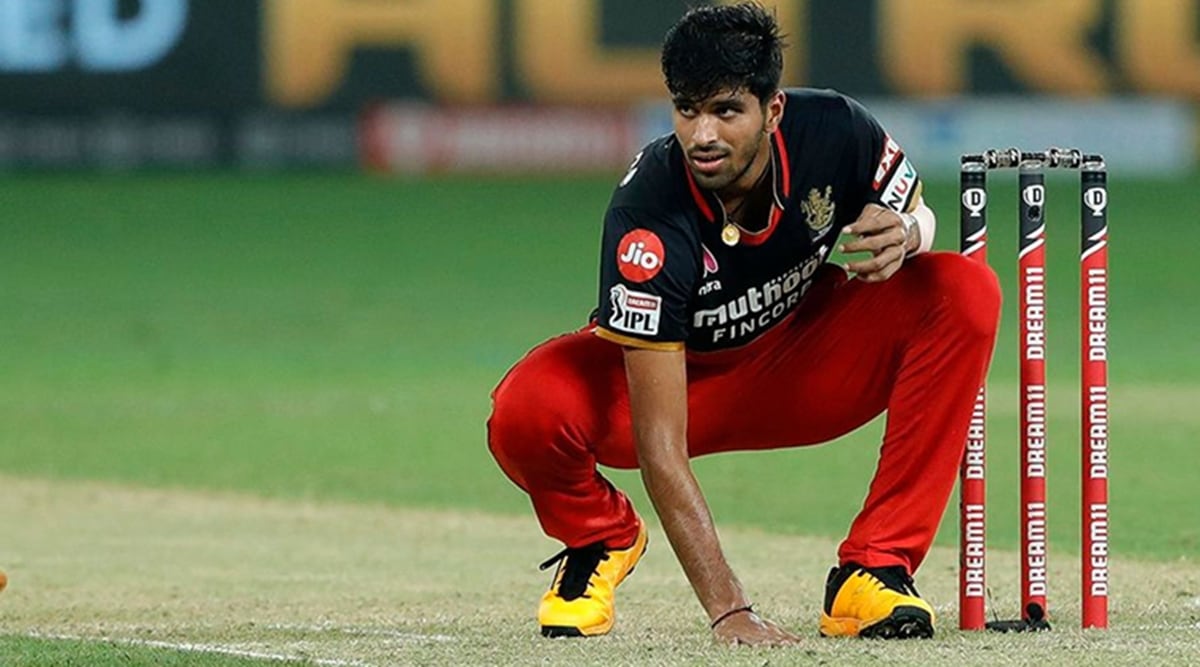 Washington Sundar prepares to bowl (Image: RCB | Twitter)
As economy-rate is very important in T20 cricket, he becomes an important contender for this spot. As a batsman, Sundar has been exceptional for his TNPL side. In fact, he's been the highest run-scorer for the 2017 season of TNPL. And this was the reason why he got into the IPL, because of his batting.
Having proved his mettle in the T20 series against Australia, he is a likely pick for the T20 WC.
5. Ravichandran Ashwin
You didn't expect him on this list, did you? Ashwin was India's best spinner or rather best spinner in all the formats of the game in the past 10 years. Although he may have been dropped unfairly, Ashwin still has the chance to get a place in the T20 squad.
Embed from Getty Images
If you look at his stats in T20 cricket, his economy-rate has been around 7 runs per over and also his strike rate and average have been great too. But however, Ashwin can also be much more than a bowler. Although he hasn't made that kind of impact with the bat in T20 cricket, one must note that he has 4 Test centuries to his name. His street smart bowling and handy innings with the bat could also be a good option for Team India.
Featured Image: Rajasthan Royals | Instagram
I am a cricket enthusiast. I love watching cricket, especially Test matches. I have been playing cricket as an all rounder at academy level for 3 years. Apart from that, I have written 100+ answers on Quora with nearly 600,000 views